Elections
The Catawba County Board of Elections
is committed to efficiently conducting fair, honest, and impartial elections so that all qualified Catawba County citizens may exercise their right to vote.
The office conducts local elections, operates voting sites, maintains voter registration lists and handles numerous aspects of election administration. The Catawba County Board of Elections works in conjunction with the State Board of Elections office to ensure that elections are conducted lawfully and fairly.
---
2021 Municipal and City School Board Elections
---

Search Organized Campaign Committee Reports
---
Absentee-by-Mail Information - Information on requesting a ballot-by-mail for the Nov 2021 Municipal and City School Elections
---
Voter Registration
Check Your Registration verify registration information
Register to Vote* for new voters and anyone moving to a different county the NC DMV website is the preferred way to register
Update Registration* use for changes to: name, address, mailing address, party affiliation [the NC DMV Portal is the preferred way to make changes]
*If you are not a NC DMV customer or do not wish to register online, print and sign a Voter Registration Form [Spanish Version]
New voters and new residents to the county (if not using the DMV Portal) are required to submit an original signed Voter Registration Form.
Current registered voters may submit changes using the DMV Portal or by email, fax or mail. Printed forms must include image of actual signature (computer fonts are not acceptable). Mail to: Board of Elections, PO Box 132, Newton, NC 28658
See VIDEO on Registering to Vote in NC
---
---

---
Check Your Registration - Use this tool to check if you are registered. If any information needs changing, complete another voter registration form.
ONLINE REGISTRATION SERVICE
Online registration applications are available for NCDMV customers for free. This service is offered through a partnership between the NC Division of Motor Vehicles and the NC State Board of Elections​. ​
On this site, you will be able to:
Register to vote (Note: if you move to a new county, you must re-register)
Update physical address
Update mailing address
Update party affiliation
DEADLINE: Registration applications submitted less than 25 days before an election will not be processed until after the election.
Go To NCDMV online voter registration application
---
If you are not an NCDMV customer, you may:
Catawba County residents may mail these to: Board of Elections, PO Box 132, Newton, NC 28658
(multiple registrations may be enclosed in the same envelope)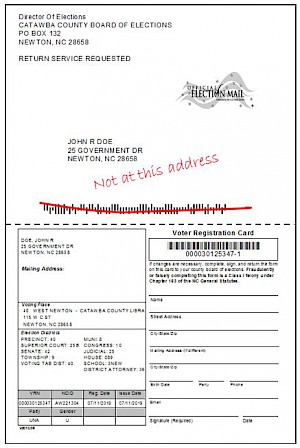 If you received a Voter Card (or other type of mail from us) for someone that does not live at that address, please write on the mailing: "NOT AT THIS ADDRESS," and put a line through the barcode if there is one below the address. Place back in your mailbox for the postal service to return to us.
No postage is necessary.
You may later receive another card from us for this person; please return it, also. Once we receive two returned voter cards, the voter's status will be either "denied" or "inactive" (if inactive, they will have to verbally verify their address if they come to vote). By law, in order for us to remove the voter from your address, we need their signature, or notification from another county or state that they have registered to vote elsewhere. A person may remove themselves by completing a Request to Cancel Voter Registration.
Is the person deceased? We need a signed Notice of Deceased Voter form completed by a near relative in order to remove their name.
Thank you for helping us keep the registration rolls accurate.
Update on Photo ID
---
Currently, photo ID is not required to vote in NC.
This page will be updated as new information becomes available from the State Board of Elections.
More information on Voter Photo ID requirements is available on the State BOE website: https://www.ncsbe.gov/Voter-ID. Phone: (919) 814-0744.