Elections
The Catawba County Board of Elections
is committed to efficiently conducting fair, honest, and impartial elections so that all qualified Catawba County citizens may exercise their right to vote.
The office conducts local elections, operates voting sites, maintains voter registration lists and handles numerous aspects of election administration. The Catawba County Board of Elections works in conjunction with the State Board of Elections office to ensure that elections are conducted lawfully and fairly.
---
Photo ID Notice - Voters will now be asked to present a valid photo identification when voting in person.
---
2023 Municipal Elections - Nov 7
2023 Official Results - Detailed results may be found here and on the State Results Page.
---
Photo ID required beginning with the 2023 Municipal Elections
For more information: https://www.ncsbe.gov/Voter-ID
Any NC resident 17 or older can get a DMV non-driver identification card for free. (Don't be confused by the $14 nonoperator ID card on the DMV website. The No-Fee ID needed for voting is free and you don't have to explain to them it is for voting purposes.) If you have a NC Drivers License, you do not need the non-driver ID to vote--an unexpired NCDL will be sufficient. More info on State Board website.
Voter Eligibility for People Serving Felony Sentences
County and Municipal School Boards in Catawba County are Partisan
For more information see Session Law 2023-32 6/08/2023
Newton-Conover Schools and Hickory Public Schools elections move to even-numbered years
Currently elected School Board Members will serve an extra year until their next election
Candidate Filing begins noon, Dec 4th, 2023--potential candidates wishing to make party changes must do so 90 days before the day of filing
Unaffiliated Candidates may appear on the November General Election ballot by petition. The petition requires signatures of 4% of the registered voters in the district for which they are running. For more information: https://www.ncsbe.gov/candidates/petitions/unaffiliated-candidate-petitions
---
Voter Registration
Check Your Registration verify registration information. Is your Name/Address correct? Is your party affiliation what you want?
---
Register to Vote* for new voters and anyone moving to a different county the NC DMV website is the preferred way to register
Update Registration* use for changes to: name, address, mailing address, party affiliation [the NC DMV Portal is the preferred way to make changes]. The deadline to change your voter registration for the March 2024 election is February 9th.
*If you are not a NC DMV customer or do not wish to register online, print and sign a Voter Registration Form [Spanish Version]
State Board Link: Choosing your party affiliation.
See VIDEO on Registering to Vote in NC
Qualifications to register - Follow this link
New voters and new residents to the county (if not using the DMV Portal) are required to submit a hard copy of an original signed Voter Registration Form. Mail signed registrations to: Board of Elections, PO Box 132, Newton, NC 28658
Current registered voters may submit changes using the DMV Portal or by email, fax or mail. Printed forms must include image of actual signature (computer fonts are not acceptable).
Felons - Latest updates for Registering as a Person in the Criminal Justice System
When registering as a voter (or updating your registration), you may choose to associate with one of the following political parties:
Democratic Party
Republican Party
Green Party
Libertarian Party
No Labels Party (Added in 2023)
You may also choose to be Unaffiliated. During a partisan primary, unaffiliated voters may vote by choosing one party's ballot (DEM, REP, or LIB), if available. If there is a runoff election, the unaffiliated voter will be given the same party's ballot chosen in the primary.
---
Candidate Campaign Information
Campaign Finance Reports - Select the calendar year for campaign reports you are interested in searching.
---
Interested in becoming a Poll Worker in 2024?
If you would like to join our team of precinct election officials and be considered for a position as a poll worker, complete an online application or send an email. More information.
---
Nov 2024 Municipal Elections
PHOTO ID is required for this election. More information.
You may use your unexpired NC Driver's License, DMV issued State ID or non-driver ID, US Passport, US Military or veterans ID card, or NC Voter Photo ID.
Note: A voter 65 or older may use an expired form of acceptable ID if the ID was unexpired on their 65th birthday.
---
2024 Election Timeline
Partisan Candidate Filing: Dec 4-15
Filing Begins - noon, December 4, 2023
Filing Ends - noon, December 15, 2023
PARTY AFFILIATION DEADLINE
Sep 16, 2023 was the last day a candidate for the 2024 elections could change their party affiliation. Unaffiliated candidates should call the BOE for information on getting on the November ballot by petition (deadline to submit signed petitions is March 5).
Note: All 3 school boards in Catawba County are partisan (as of 6/8/2023) and begin filing December 4th. Session Law 2023-32
---
Nov 5th Presidential Primary Early Voting: Feb 15-Mar 02
Early Voting: Thursday, Feb 15, 2024 - 3pm, Saturday, March 2, 2024
Primary Election Day: Tuesday, March 5, 2024 (6:30am - 7:30pm)
---
2024 Presidential Primary Election Day: Tuesday, March 5th
Early Voting: Thursday, Feb 15, 2024 - 3pm, Saturday, March 2, 2024
Primary Election Day: Tuesday, March 5, 2024 (6:30am - 7:30pm)
---
2024 Absentee-by-Mail
Voters wishing to recieve their ballots by mail must make requests for each election in each calendar year. Request forms for mailed ballots are not available until January 2024. The first week of January, the online Absentee Portal will be activated and the printable PDF form will become available for those not using the online portal. Links will be posted here when they become available.
2024 Early Voting
Early Voting Dates and Times

5 LOCATIONS

Thursday – Friday

Feb 15 - 16

8am - 7:30pm

Saturday

Feb 17

8am - 3pm

Sunday

Feb 18

1pm - 5pm

Monday – Friday

Feb 19 - 23

8am - 7:30pm

Saturday

Feb 24

8am - 3pm

Sunday

Feb 25

1pm - 5pm

Monday – Friday

Feb 26 - Mar 1

8am - 7:30pm

Saturday

Mar 2
8am - 3pm

NOTES:

Photo ID is required. If voters are registering to vote for the first time in Catawba County, proof of residence must also be provided

If new voters are registering and their correct address is on the Photo ID, no other document is required
Older voters may use an expired photo ID if it expired AFTER they turned 65
Visit the State Board of Elections website for more information on photo ID

The last day to change party affiliation is February 9th. NO party changes are allowed at early voting or on election day.
Only Unaffiliated (UNA) voters may choose the DEM, REP, or LIB ballot, if available. All others may only vote the ballot of the party of which they are registered, if there is one. Check your registration info here. The 5 parties recognized by North Carolina are:

Democratic (DEM)
Green (GRE)
Libertarian (LIB)
No Labels (NLB)
Republican (REP)

Voters at all early voting locations use the touchscreen ExpressVote paper ballot machines to make their selections. The voter may review their printed ballot choices before casting their printed paper ballot card into a tabulator. More Info
Curbside Voting is available at all polling locations for voters unable to physically come inside ("because of age or physical disability"). All curbside voters are given an oath affirming their inability to vote inside and will vote on a touchscreen ExpressVote machine brought to their auto
Catawba County residents may vote at ANY of the 5 sites during early voting hours
Early Voting ends on Saturday March 2nd at 3pm
There is NO voting on March 3rd and 4th
On Primary Election Day, March 5th, law requires voters to cast their ballots ONLY at the polling location of the precinct in which they live [Precinct List with Map]. Voting on election day is available only to voters that were registered 25 days or more before the election. Voters not registered are not eligible to vote election day
Printable Early Voting Schedule
---
Second Primary (if needed)
| | Runoff WITHOUT Federal Race | Runoff WITH Federal Race |
| --- | --- | --- |
| Early Voting: | Thur, April 4, 2024 - 3pm, Sat, Apr 20, 2024 | Thur, Apr 25, 2024 - 3pm, Sat, May 11, 2024 |
| 2nd Primary: | Tuesday, April 23, 2024 (6:30am-7:30pm) | Tuesday, May 14, 2024 (6:30am-7:30pm) |
---
Non-Partisan Soil & Water Filing
Soil & Water Conservation District Supervisor Filing Begins - noon, June 10, 2024
Filing Ends: noon, July 5, 2024
---
Presidential Election
Early Voting: Thursday, October 17, 2024 - 3pm, Saturday, November 2, 2024
Election Day: Tuesday, November 5, 2024
All dates and times are subject to change
---

-accordion ONLINE REGISTRATION: May I register to vote, change my party, or update my address online? YES, if you are an NC-DMV customer...
Check Your Registration - Use this tool to check if you are registered. If any information needs changing, complete another voter registration form.
ONLINE REGISTRATION SERVICE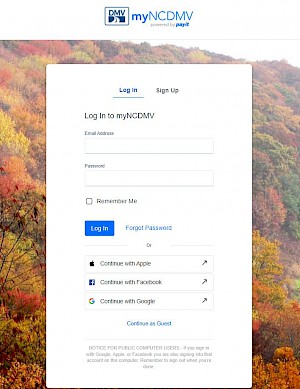 Online registration applications are available for NCDMV customers for free. This service is offered through a partnership between the NC Division of Motor Vehicles and the NC State Board of Elections​. ​
On this site, you will be able to:
Register to vote (Note: if you move to a new county, you must re-register)
Update physical address
Update mailing address
Update party affiliation
DEADLINE: Registration applications submitted less than 25 days before an election will not be processed until after the election.
Go To NCDMV online voter registration application
---
If you are not an NCDMV customer, you may:
Catawba County residents may mail these to: Board of Elections, PO Box 132, Newton, NC 28658
(multiple registrations may be enclosed in the same envelope)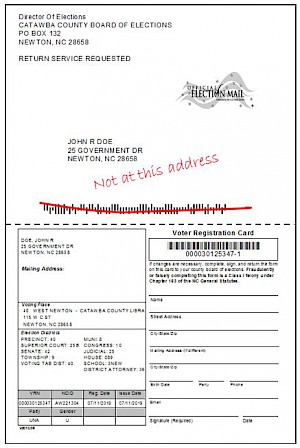 If you received a Voter Card (or other type of mail from us) for someone that does not live at that address, please write on the mailing: "NOT AT THIS ADDRESS," and put a line through the barcode if there is one below the address. Place back in your mailbox for the postal service to return to us.
No postage is necessary.
You may later receive another card from us for this person; please return it, also. Once we receive two returned voter cards, the voter's status will be either "denied" or "inactive" (if inactive, they will have to verbally verify their address if they come to vote). By law, in order for us to remove the voter from your address, we need their signature, or notification from another county or state that they have registered to vote elsewhere. A person may remove themselves by completing a Request to Cancel Voter Registration.
Is the person deceased? We need a signed Notice of Deceased Voter form completed by a near relative in order to remove their name.
Thank you for helping us keep the registration rolls accurate.
Update on Photo ID
---
Current Status: Photo ID Required for Voting.
The General Assembly of North Carolina passed Senate Bill 315 in August of 2011 that permits campaign signs in the right-of-way. Signs are permitted during the period beginning on the 30th day before the beginning date of Early Voting and ending the 10th day after the primary or election day.
Note: a city ordinance may prohibit or regulate placement of political signs on streets within the corporate limits.
2024 Presidentail Primary: First day in which signs may be placed in right-of-way is January 8th (Early Voting begins February 15th)
---
Signs must be placed in accordance with the following -- per NCGS §136-32(d):
No sign shall be permitted in the right-of-way of a fully controlled access highway.
No sign shall be closer than three feet from the edge of the pavement of the road.
No sign shall obscure motorist visibility at an intersection.
No sign shall be higher than 42 inches above the edge of the pavement of the road.
No sign shall be larger than 864 square inches.
No sign shall obscure or replace another sign.
The N.C. Department of Transportation has the authority to remove any signs that violate these rules. If anyone else removes or vandalizes a sign, they could be subject to a Class 3 misdemeanor citation from law enforcement.
NC DOT Contact Information - Please direct all complaints to the local NCDOT County Maintenance Office. NCDOT's maintenance field employees assist in removing signs that are illegally placed within the state highway right-of-way. Citizens who do not want to use the online portal can call the main NCDOT number at 1-877-368-4968 (1-877-DOT-4YOU).
---

Uniformed and Overseas Citizens
FVAP.gov | Voting assistance for Service members, their families and overseas citizens
Military and Overseas voters wishing to vote must submit a new application each calendar year
For more information, visit FVAP.gov or call 1-800-438-VOTE (8683) Mon-Fri 7:30am-4pm EST
March 2024 Presidential Primary UOCAVA Election Notice - Notice is incomplete until candidate filing ends Dec 15, 2023.