Project Lifesaver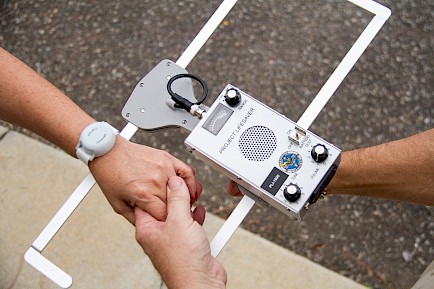 Project Lifesaver is an innovative rapid response program aiding victim's and families suffering from Alzheimer's disease and related disorder such as Down syndrome and autism. It is designed to protect wandering patients, give peace of mind to caregivers, families and communities. Our local program operates as a partner of Project Lifesaver International, a 501-c3 tax-exempt organization.
By forming partnerships with local law enforcement and public safety organizations, Project Lifesaver deploys specially trained teams with the most reliable technology available to quickly locate and return wandering adults and children to their families and caregivers. People who are part of the Project Lifesaver program wear a personalized wristband that emits a tracking signal. When caregivers notify the local Project Lifesaver agency that the person is missing, a search and rescue team responds to the wanderer's area and starts searching with the mobile locator tracking system. The average time of rescue is 30 minutes. Having conducted more than 3,300 rescues across the nation, the program currently has a 100% success rate.
To apply for the Project Lifesaver program, complete the initial application linked below and someone from the Sheriff's Office will follow up with you to complete the enrollment.
Questions?
Call 828-465-8299 or 828-464-5241
Email ProjectLifesaver@CatawbaCountyNC.gov
---
Donate or Sponsor A Client
If you would like to help support the Catawba County Sheriff's Office Project Lifesaver Program, you can make a tax-deductible donation. 100% of your donation will help provide services for Catawba County residents by aiding in the purchase of necessary supplies and equipment to maintain our local program.
(Tax-deductible donation in our name)
You may make a tax-deductible donation through Project Lifesaver International in our local program's name.
Make check payable to: Project Lifesaver
(Be sure to write "Catawba County Sheriff's Office, NC" in the memo line of your check.)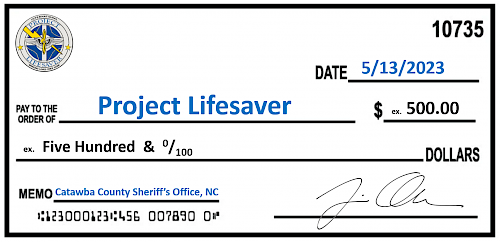 Mail check to:
Catawba County Sheriff's Office
c/o Project Lifesaver
100 Government Dr. Dept E
Newton NC 28658