Arts @ the Library
What is Arts @ the Library?
To make art more prominent in our local libraries and to provide wider access to the community's rich arts and culture scene, the Catawba County Library System has launched an Arts @ the Library initiative. The program introduces people to different styles of art and offers rotating art exhibits, artist receptions, and hands-on workshops for all ages.
The initiative is made possible with a grant from the United Arts Council of Catawba County and partnerships with the Hickory Museum of Art and the Catawba County Friends of the Library. The Library is also working with both local and regional artists' collectives to make upcoming programs as robust and as widely appealing as possible.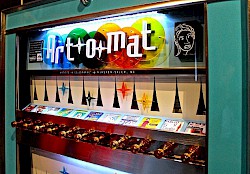 As a key feature of the program, the Library is installing an Art-o-Mat® in the Main Library in Newton. This distinctive vending machine is a repurposed, vintage cigarette dispenser that sells small pieces of original art for only $5 each. Not only does it provide access to affordable, high-quality art in the community, but it also enhances the reach of local artists through Art-o-Mat's national network.
For more information about the Library's arts programs and exhibits, please call 828.465.8665.
* To print out a release form to submit original content for a library program, click here.
---
Your Art with Us: mini-abstractions
From an exploration of Matisse's "Goldfish" to the study and interpretation of six mini artworks inspired by Warhol, Keith Haring, Picasso, Mondrian, Stella, and Van Gogh, explore how Maiden Middle School's 7th-grade art class reinterpreted famous works of art from diverse styles, including expressionism, pop art, and abstract art. On display at the Main Library in Newton for the month of December, 2020.
Click the image to view a larger version.
---
A.R.T.T. Selfie Project
Inspired by author Jacqueline Woodson's virtual program for the Lenoir-Rhyne University Visiting Writers Series on October 8, 2020 – and to celebrate her novel, Harbor Me – the Catawba County Library hosted an ARTT show featuring selfies from kids and youth grades 5 and up.
Woodson's New York Times' best-selling novel tells the story of six students who meet weekly to talk, congregating in a former art room (known as the ARTT, an abbreviation for A Room To Talk). Conversations touch on race, immigration, family, and identity as the students discuss their lives, their thoughts and perspectives, and the emotions and dreams they harbor within themselves.
Since the narrative revolves around the concept of identity, the library explored that theme by inviting youngsters to create selfies. Submissions were displayed in an exhibit at the Main Library in Newton and are showcased here digitally.
To get a glimpse of the incredible art and essays we received, click the image to enlarge it.