Catawba County News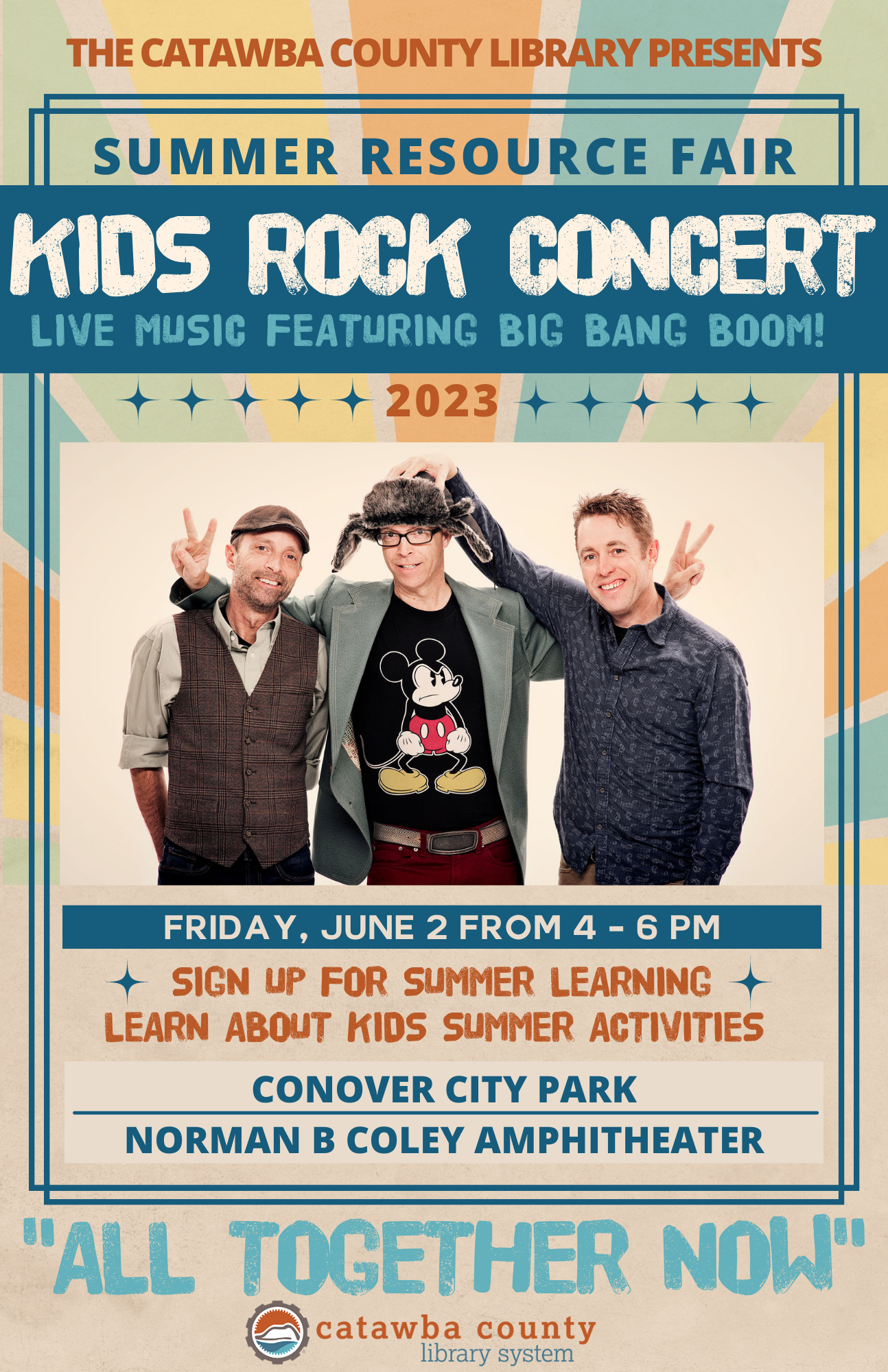 ---
Library Invites Community to Summer Learning Kickoff Concert and Resource Fair
Published: May 25, 2023
With Summer Learning right around the corner, it's time to celebrate! The Catawba County Library invites you to join us for our Summer Learning Kickoff featuring BIG BANG BOOM in concert and a Summer Activity Resource Fair on Friday, June 2nd at the Norman B. Coley Amphitheater at Conover City Park from 4 - 6 pm.
The featured event at this celebration is the kids rock concert put on by the band, BIG BANG BOOM. Established in 2007 out of Greensboro, North Carolina, this rockin' power pop band consists of talented artists and long-time musicians. But this musical group doesn't play just any ole' average music…they write songs with a pop sensibility by cleverly mixing alternative, hip-hop, rock, country, and other genres to create music that both adults AND children can enjoy, because Big Bang Boom songs are fun and they teach you things! The concert will begin at 4:30 pm. For an added treat, free hotdogs will be available while supplies last.
Also featured is a summer activity resource fair, highlighting the details of summer programs and activities from agencies and organizations across the county. Talk with staff and learn more about the available summer programs from:
• Catawba County Library System
• Pitch Perfect
• CVCC Summerscapes
• Catawba County 4-H
• Green Room Community Theatre
• Raise the Barre Dance Academy
• Hickory Ballet and Performing Arts
• Stretch-n-Grow
• Donald Hicks Basketball Camp
• We Rock the Spectrum Gym
• Catawba County Public Health
Along with the concert and resource fair, enjoy the wide variety of fun family activities Conover City Park has to offer, including two nature-themed playgrounds, a splash pad, pickleball courts, and walking trails!
Help us kick off the summer at our Summer Learning Resource Fair featuring BIG BANG BOOM in concert on Friday, June 2nd at Conover City Park from 4 - 6 pm! All are welcome!
Conover City Park is located at: 361 5th Ave SE, Conover, NC 28613