Catawba County News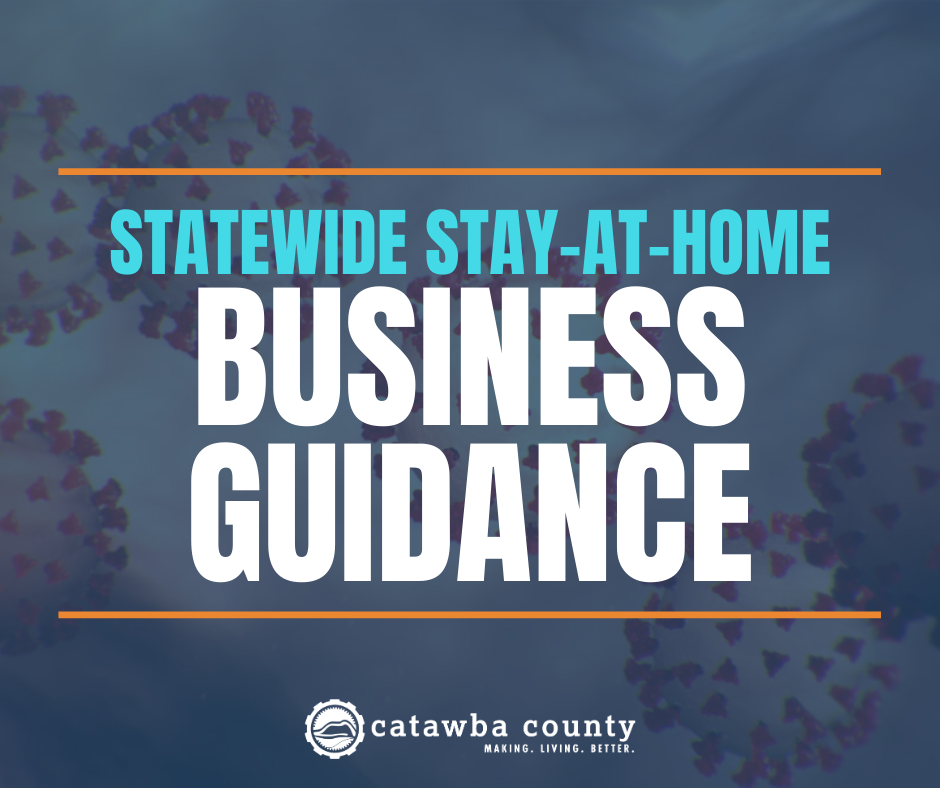 ---
Business Guidance: North Carolina Stay at Home Order
Published: March 27, 2020
With the release of North Carolina Governor Roy Cooper's Stay at Home Order, effective March 30, 2020 at 5:00 p.m., local businesses may have questions about whether or not the Order applies to them. Businesses are advised to consult the Executive Order to determine if they are considered an Essential Business and allowed to remain open. Businesses excluded from the list of Essential Businesses and Operations in the Stay at Home Order may direct requests to be included to the North Carolina Department of Revenue (NCDOR).
NCDOR Website:https://www.ncdor.gov/home/ncdor-actions-covid-19/covid-19-essential-businesses
NCDOR Email:Essential.Exemption@ncdor.gov
NCDOR Phone: 1-877-252-3052
Stay at Home Order:https://files.nc.gov/governor/documents/files/EO121-Stay-at-Home-Order-3.pdf
Stay at Home Order FAQ:https://files.nc.gov/governor/documents/files/200327_FAQ-SAH-Order_FINAL.pdf
According to the Order, essential businesses and operations includes the following businesses, not-for-profit organizations and educational institutions. Review the order for details to self-determine if you meet these specifications.
Businesses that meet social distancing requirements
Businesses operating in CISA identified sectors
Healthcare and public health operations
Human services operations
Essential infrastructure operations
Essential governmental operations
Stores that sell groceries and medicine
Food, beverage production and agriculture
Organizations that provide charitable and social services
Religious entitites
Media
Gas stations and businesses needed for transportation
Financial and insurance institutions
Home improvement, hardware and supply stores
Critical trades,
Mail, post, shipping, logistics, delivery, and pick-up services
Educational institutions
Laundry services
Restaurants for consumption off-premises
Supplies to work from home
Supplies for COVID-19 essential businesses and operations
Transportation
Home-bases care and services
Residential facilities and shelters
Professional services
Manufacture, distribution, and supply chain for critical products and industries
Defense and military contractors
hotels and motels
Funeral services
Additional COVID-19 essential retail businesses, which include electronic retailers that sell cell phones, book stores that sell educational material, beer, wine, and liquor stores, gas stations and convenience stores, pet and feed stores, lawn and garden equipment retailers
From the FAQ:
What businesses may remain open?
Essential businesses as defined in the Order may remain open. Other non-essential businesses must remain closed unless permitted by the Secretary of Revenue. Establishments required to close under previous executive orders must remain closed.

Does my business need any documentation to continue operating?
Businesses and not-for-profit organizations that are deemed essential as defined by the Order do not need any documentation from the State to continue operations. Employees are not required to have specific documentation to report to work under this Order.

What if my business is not listed as essential and I cannot conduct business operations and maintain social distancing between employees?
If your business is not included in the list of Essential Businesses and Operations and you believe it is essential, you can submit an application to the North Carolina Department of Revenue (NCDOR). NCDOR will review applications to determine whether the business is necessary to properly respond to this COVID-19 pandemic. NCDOR will post on its website a point of contact and procedures for businesses seeking an essential designation.

What if my business does not fall within an exception and must close?
Businesses that are required to cease all activities are still allowed to continue Minimum Basic Operations. These operations include activities necessary to maintain the value of the business's inventory; preserve the condition of the business's physical plant and equipment; ensure security; process payroll and employee benefits, or related functions; and, activities to support employees who are working remotely. However, employees must comply with social distancing requirements, to the extent possible, while carrying out such operations.
If my business was previously required to close under an Executive Order or a local Stay at Home order, are there any circumstances under this Order that would allow me to re-open?
No.
What if I still have to go to work?
Businesses have been encouraged to implement remote working policies for their employees. If you have been designated essential by your employer, you should continue to go to work and practice social distancing to the extent possible.
Where can I report a business that is operating in violation of the Order?
Governor Cooper is seeking voluntary cooperation from all state residents and businesses to ensure the health and safety of our communities. If voluntary cooperation is not achieved, state and local law enforcement officers have the authority to enforce the Order.