Catawba County News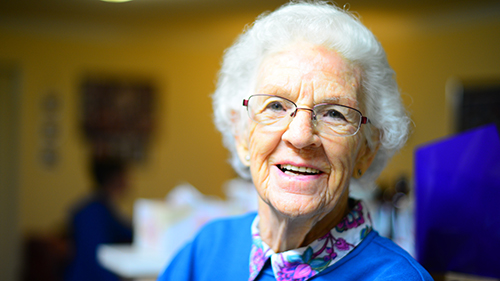 ---
Seniors Morning Out Activities October 2019
Published: September 18, 2019
HICKORY – Seniors Morning Out participants will enjoy a variety of activities in October, including a large bingo event and craft classes.
Any resident of Catawba County who is 60 or older is invited to join Seniors Morning Out, which is held between 8:00 a.m. and 12:00 p.m. Monday through Thursday at five convenient locations. A hot, balanced lunch is served each day. Programs are free to participants, who may pick and choose which days to attend. Bus transportation to and from the sites is available in some locations.
On October 29th, seniors 60 years or older are invited to attend a large Halloween bingo event, at First United Methodist Church of Hickory from 9:30am-12:00noon. Registration is required by calling 828-695-5610 by October 22nd. Lunch will be provided at no cost. Bingo cards can be purchased for $1 per card with a two card max per person with lots of prizes to be won.
Other program highlights are as follows.
At the Newton site, located at First Presbyterian Church, 701 N Main Ave, Newton

10/2

Flu Vaccines by CVS Newton

10/7

Lung Education for Healthy Lung Month

10/8

Cooking Class- Angel Food Cake

10/10

Drumstick Fitness with Erin Thompson

10/14

Bowling at Pin Station

10/15

Pottery with Denise Lehman

10/28

Craft Class- Cute Plaid Pumpkins

10/30

Benefits of Massage Therapy and Chair Massages by Walter Garcia, LMBT
At the West Hickory site, located at the West Hickory Senior Center, 400 17th St SW, Hickory

10/3

Jessica Stewart to sing Country Songs

10/8

Chair Exercise with Erin Thompson

10/9

Music by Bob Sinclair and Molly Barrett

10/14

Flu Shot Clinic

10/15

National Breast Cancer Awareness with Carolyn Thompson, RN

10/21

Halloween Crafts

10/24

Trip to Taylorsville

10/30

Cooking Class- Creepy Crawly Creations
At the East Hickory site, First United Methodist Church, 311 3rd Ave NE, Hickory

10/2

National Dream Car Day- Draw and Name Your Dream Car

10/3

Singing and Dancing with Sentimental Journey

10/14

Holiday Trivia with Tamara Faulkner

10/16

Cooking Class- Easy Veggie Dip and Cauliflower

10/17

Invigorating Chair Exercise with Erin Thompson

10/22

Breast Cancer Awareness

10/23

Bingo at Atlanta Bread

10/29

Large Halloween Bingo Event
At the Catawba site, located at Center United Methodist Church, 4945 Sherrills Ford Rd, Catawba

10/2

Fire Safety with David Pruitt

10/3

How to Keep Your Liver Healthy with Caitlyn Droste

10/8

Craft Class- Plastic Ball Ornaments with Sharon Treadway

10/10

Elvis Tribute with Ed Smith

10/16

Crisis Prevention: Keeping Your Cool Under Pressure with Jeff Dula, Vaya Health

10/17

Cooking Class- Spinach Dip

10/22

Fall Festival

10/23

Music by Bob Sinclair or Molly Barrett
At the Maiden site, located at the Maiden Community Center, 207 E Klutz St, Maiden

10/1

Depression: From Surviving to Thriving with Jeff Dula, Vaya Health

10/7

Cooking Class- Candy Corn Fruit Parfait

10/9

Liver Health and Disease Prevention with Caitlyn Droste

10/15

Travel to India with Ken Duke

10/16

Craft Class- Spooky Spiders

10/22

Pottery with Denise Lehman

10/24

Trip to Taylorsville

10/30

Apple Trivia and Caramel Apple Bar for National Caramel Apple Day
Seniors Morning Out is operated by Senior Nutrition Services of Catawba County Social Services and is in need of volunteers to assist with the program between 8:00am and noon, Monday – Thursday. Please call 828-695-5617, if interested. In addition to SMO, Senior Nutrition Services operates Meals on Wheels and related programs in the county. Additional volunteers are urgently needed to deliver Meals on Wheels. You can volunteer as little as one and a half hours a month. To find out more, contact Senior Nutrition Services at 828-695-5610 during regular business hours, 7 a.m. to 4 p.m. Monday, Tuesday, Thursday and Friday and 7 a.m. to 6 p.m. on Wednesdays, except for holidays. For the latest updates, like their Facebook page at http://www.facebook.com/MealsonWheelsofCatawbaCounty, or visit their website at http://www.MealsonWheelsofCatawbaCounty.org.
Catawba County Senior Nutrition Services is a United Way funded partner. Catawba County United Way's mission is to increase the organized capacity of people to help others by mobilizing the caring power of our community. For more information, locate us on Facebook, 828-327-6851 or www.ccunitedway.com.