Catawba County News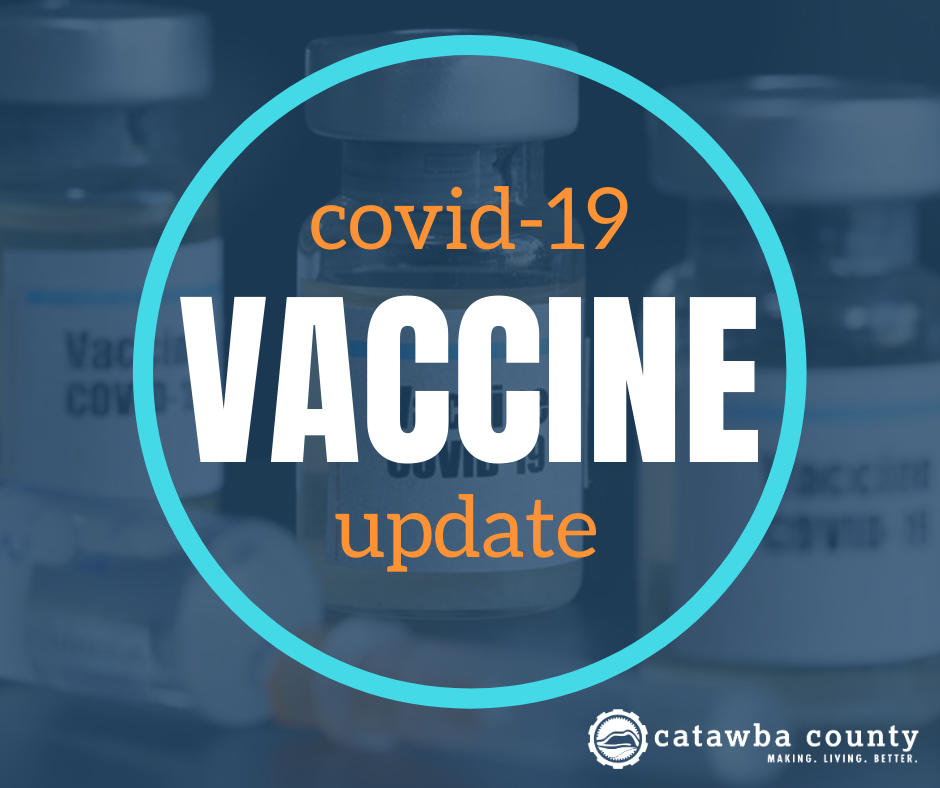 ---
Major Changes to Vaccination Appointment Request Process Starting March 3
Published: March 03, 2021
As the state's vaccine rollout plan opens up to frontline essential workers, Catawba County Public Health, Catawba Valley Health System (CVHS) and Frye Regional Medical Center (FRMC) are making significant changes to the joint vaccination appointment request process for local employers and individuals. Due to limited vaccine supply and anticipated high demand for vaccination appointments, these changes are being implemented to help make the scheduling process more efficient for eligible employers and individuals.
For Group 3 Employers (and their frontline essential employees) in Catawba County
Public Health, CVHS and FRMC are working directly with Catawba County employers to coordinate group scheduling for their eligible workers who wish to receive the COVID-19 vaccine. This will help streamline the vaccination request process and minimize disruptions for the local workforce in light of the anticipated high demand for vaccination appointments.
To get started, local employers may go to CatawbaVaccine.org and click on the Business portal, where they will find more information about the process. They will also be able to submit a brief information form, and a member of the scheduling team will contact them within two weeks with next steps.
Frontline essential workers for companies located in Catawba County should first talk with their employer before requesting an individual appointment. Due to the extremely high demand for vaccinations and limited vaccine supply, scheduling appointments through employers will be the quickest way for frontline essential workers in Catawba County get an appointment with the vaccination team.
Independent contractors or people who are self-employed and believe they are part of Group 3 may request an appointment online at CatawbaVaccine.org, where an eligibility determination will be made.
For Individuals
Appointment requests for other eligible individuals will be handled online only through www.CatawbaVaccine.org beginning at 2 p.m. Wednesday, March 3. No appointments will be made by phone.
Individuals seeking appointments online will be required to indicate their eligibility category. Frontline essential workers will also be required to enter the name of their employer.
Individuals without internet access may call the new COVID-19 Referral Line at 828-282-2002 after 2 p.m. Wednesday, March 3. Referral specialists will not be able to schedule an appointment for callers. They are available to assist individuals with completing the online appointment request form on www.CatawbaVaccine.org.
Individuals who are unsure of which eligibility group they are in can use the Find My Vaccine Group tool to determine if they are part of Group 3.
For more information about COVID-19 and vaccinations, visit www.CatawbaCountyNC.gov and click on the COVID-19 information page or call the COVID-19 Referral Line at 828-282-2002.