Catawba County News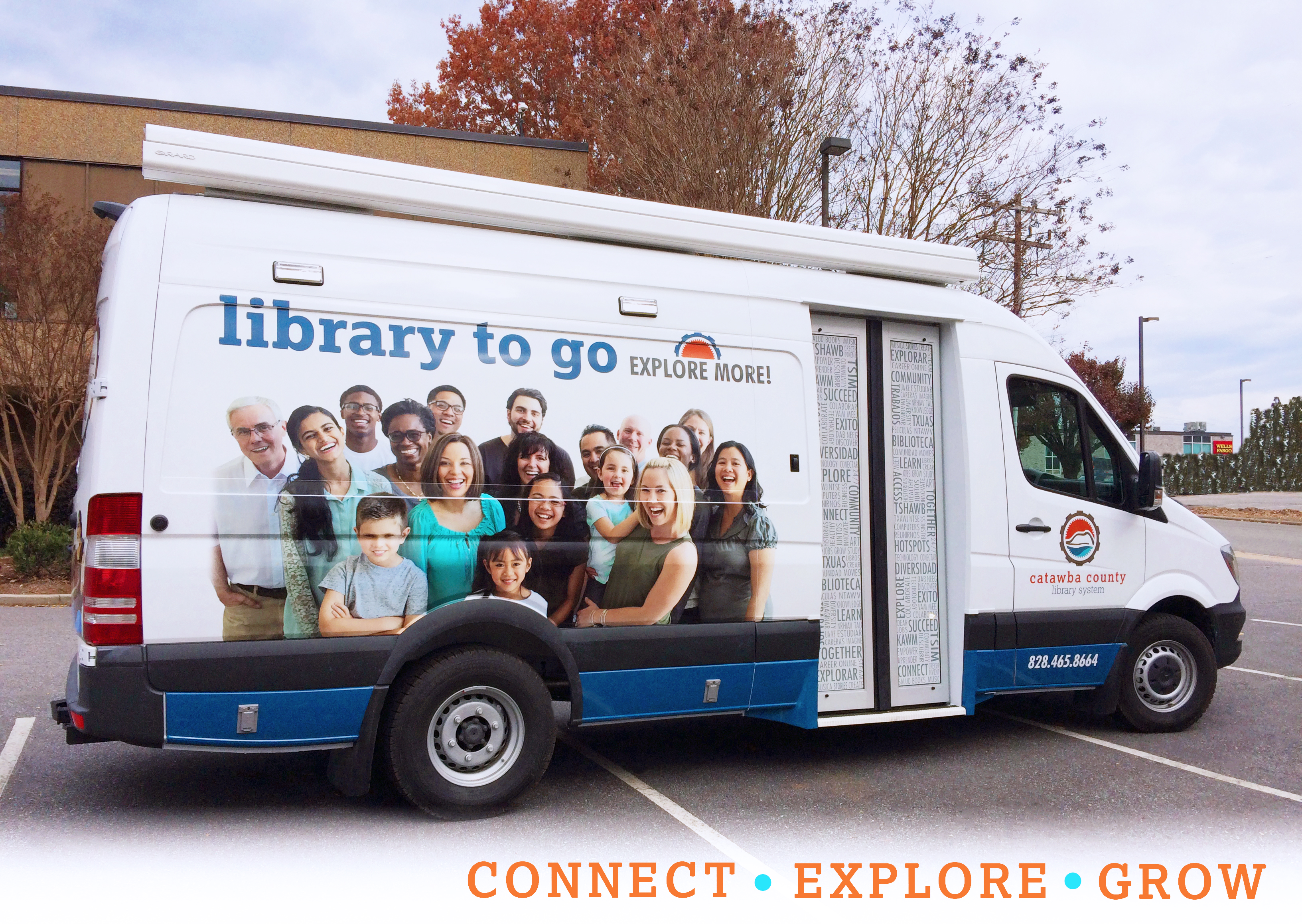 ---
Look for the Library to Go at Community Events
Published: April 08, 2021
The Library to Go, the Catawba County Library's mobile vehicle, regularly brings resources and services to people throughout the county, providing library access at a variety of community events, including farmers' markets, arts festivals, and seasonal programs.
During the month of April, the Library to Go will make appearances at the following:
Plaza Latina (1901 Northwest Blvd, Newton). The Library to Go will be sharing library resources and connecting people to valuable information they need. Staff from Catawba County Public Health will also be in attendance to answer questions about COVID-19 and schedule vaccination appointments. Look for them from 12 noon till 4 pm on Saturday, April 10.
Redeemer Lutheran Church, ELCA (200 South Main St) in the Town of Catawba. Patrons are invited to come inside to browse library materials and to get assistance from staff members during the Library to Go's regular visits each first and third Thursday. Everyone is asked to sanitize their hands, wear face coverings, and practice social distancing while inside. This visit will take place from 10 am till 2 pm on Thursday, April 15.
Southside Park (1775 Southwest Blvd, Newton). The Hickory Ballet & Performing Arts' Youth Company will be performing Vivaldi's Four Seasons at an outdoor, socially-distanced, interactive storytime experience. The free library program is ideal for young people interested in dance and is open to families and people of all ages. The Library to Go will be set up with books for patrons to check out and information about upcoming library programs. The performance takes place at 11 am on Saturday, April 17, and the mobile library will be available from 10 am till 12 noon.
Catawba Farms (1670 Southwest Blvd, Newton). Look for the Library to Go at the new Catawba Valley Festival of the Arts. While people explore the event's performers and vendors, they are also invited to discover the library's resources and its arts programs. To view the complete list of the festival's weekend activities, visit www.facebook.com/the.cvfa. The Library to Go will be in attendance beginning at 12 noon on Saturday, April 24.