Catawba County News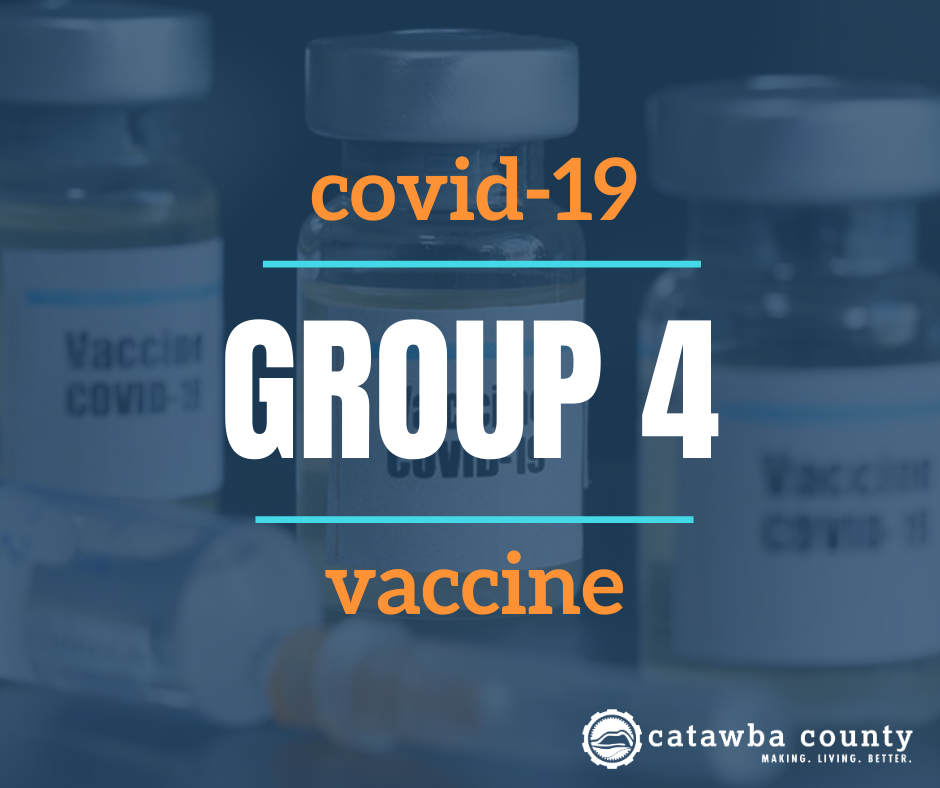 ---
Local Group 4 Vaccination Information
Published: March 16, 2021
As the state's vaccine rollout plan opens up to people with one or more conditions that increase their risk of severe COVID disease and people living in congregate housing, Catawba County Public Health, Catawba Valley Health System and Frye Regional Medical Center will continue to provide a joint vaccination appointment request process through www.CatawbaVaccine.org.
Eligible individuals in Group 4 may request appointments online through www.CatawbaVaccine.org beginning the morning of March 17. No appointments will be made by phone. Individuals seeking appointments online will answer a few questions to determine their eligibility before providing their contact information. When an appointment becomes available, they will be contacted by a scheduler to coordinate their appointment date and time. Individuals without internet access may call the COVID-19 Referral Line at 828-282-2002, where a referral specialist can assist individuals with completing the online appointment request form.
Due to limited vaccine supply and anticipated high demand for vaccination appointments, individuals who request appointments through www.CatawbaVaccine.org should expect to wait a few weeks before appointments become available.
Vaccination of healthcare workers, individuals age 65 and over, and frontline essential workers will continue, and Catawba County's vaccination providers will honor appointments already made for people in these groups. Additional members of Group 4 (essential workers not already vaccinated) will become eligible on April 7, according to the state.
"We recommend that all eligible individuals get vaccinated, no matter which vaccine is offered," said Catawba County Health Director Jennifer McCracken. "COVID-19 can cause mild symptoms in some individuals, while others experience severe illness that can cause hospitalization and death. Because more than half of the adults in our community are affected by at least one chronic condition, tens of thousands of our county's residents are at increased risk of complications from COVID. Every vaccination that is administered represents one fewer person who is at risk of experiencing severe illness or death from COVID-19 or of spreading it to someone more vulnerable."
For more information about COVID-19 and vaccinations, visit www.CatawbaCountyNC.gov and click on the COVID-19 information page or call the COVID-19 Referral Line at 828-282-2002.
Individuals who are unsure of which eligibility group they are in can use the state's Find My Vaccine Group tool at www.findmygroup.nc.gov to determine if they are part of Group 3.
Vaccinations will continue to be provided based on vaccine availability and in partnership with both Catawba Valley Health System and Frye Regional Medical Center.