Catawba County News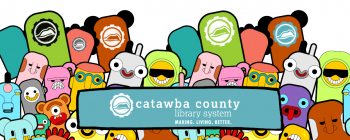 ---
Library Launches Spring Into Reading Challenge
Published: January 22, 2021
The Catawba County Library is excited to be launching a fun youth reading challenge called Spring into Reading. The seven-week challenge runs from Groundhog Day (February 2) to the first day of spring (March 20) and will engage young participants (birth to age 13) with two components that work together to help boost reading skills.
First, young people are asked to read 120 minutes, or 2 hours, during each of the seven weeks. They can read anything they'd like to meet the goal, from books to graphic novels. To log the reading time each week, parents can set up an online account for their child through Beanstack (https://catawbacountync.beanstack.org/reader365), a personalized tool that's available on the Web and as an app through the Apple and Google Play stores. Reading time can be entered easily by clicking on the 'logging badges' tab.
The second part of Spring into Reading invites kids to participate in a weekly series of STEAM programs held live on Zoom. Each one has a different theme to help youth learn about science and technology through fun, hands-on experiences. Each child is asked to attend five of these seven STEAM programs. Parents can register their child for the Zoom sessions by visiting https://tinyurl.com/SpringIntoReading. Participation in the STEAM programs can be logged in Beanstack by clicking on the 'activity badges' tab.
Youth who complete the weekly reading challenges and five of the seven STEAM programs will be entered into a drawing for a chance to win one of the library's cool, 3-D-printed monsters. These figurines were created in-house on the library's own 3-D printer.
The individual STEAM programs taking place via Zoom include:
Week 1: Shadow Puppets – Tuesday, February 2 at 4 pm
Week 2: Borax Crystal Snowflakes – Tuesday, February 9 at 4 pm
Week 3: Ski Challenge – Thursday, February 18 at 4 pm
Week 4: Save Han Solo – Saturday, February 27 at 3 pm
Week 5: Bug Out Robots – Thursday, March 4 at 4 pm
Week 6: Origami Rainbow Flowers – Friday, March 12 at 4 pm
Week 7: Pi Day – Thursday, March 18 at 4 pm
Materials for these STEAM challenges will be available to registered participants as two separate kits: one for February's programs and another for March's programs. Kits will be sent to each family's branch of choice within 3-4 business days following registration. Please note that supplies are limited; however, many of the materials included in both kits are basic household items that families may already have on hand.