Catawba County News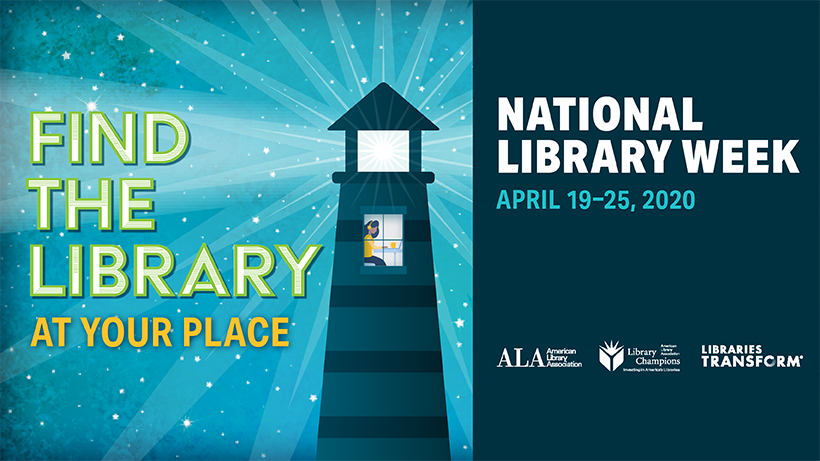 ---
Library Encourages Community to 'Find the Library at Your Place'
Published: April 16, 2020
While county residents are honoring Governor Cooper's stay-at-home order, many are also discovering the versatility of the Catawba County Library, whose slate of services and resources is as robust as ever – just offered more visibly these days in a virtual format.
The essential nature of the library's work is made even more evident with the observation of National Library Week from April 19-25, 2020. The celebration's original theme – 'Find your place at the library' – was adjusted following the emergence of the global pandemic to 'Find the library at your place.' This new phrasing draws attention to the library's continuing availability online, delivering electronic services and content that residents trust and can depend on more than ever. For years, libraries have had a strong digital component; now, with sheltering-in-place orders, these services are being cast in an increasingly clearer light. As always, the Catawba County Library's online resources are available 24/7 and accessible anywhere an Internet connection is available.
National Library Week highlights the valuable role libraries, librarians, and library workers play in transforming lives and strengthening communities. Unusual circumstances showcase how libraries respond to needs in innovative and inspiring ways. While people remain at home, libraries make a difference by providing a variety of online learning resources, including virtual homework help, online crafting and DIY sessions, and information to keep families well and safe.
While the Catawba County Library has closed its physical locations, the library is actively serving the community. Curbside service to pick up physical items is available at the Newton and Sherrills Ford-Terrell libraries, and programs for children, teens, and adults are being created in digital formats available on the library's social media accounts and website. Reference librarians are eagerly assisting people over the phone with research, electronic devices, homework, and life questions. Given the stay-at-home order, there is also a renewed focus on sharing information about the library's free online learning sites, digital opportunities for education and entertainment, and media lending through apps like NC Live, Hoopla, Libby, and Overdrive. In addition, the library lends laptop computers and Wi-Fi hotspots to residents, and free wireless Internet access is available without a library card from the parking lots of all seven library locations – any resident is welcome to enjoy this connection for work or play.
Digital resources at the library are broader than newcomers might imagine at first glance. Not only can people check out physical books and DVDs through curbside service, but they can also take advantage of ebooks, movies, music, video games, graphic novels, audiobooks, magazines, and newspapers from the comfort of their own homes. A library card is all that's needed for residents to enjoy everything the library has to offer. Just make sure that everyone in the family – kids and teens included – has a card in their name to maximize the number of checkouts available and to ensure that everyone has materials to satisfy their own interests.
Any resident who does not currently have a Catawba County Library card can set up a free account through the library's website or by phone. The online form will allow immediate access to all digital resources. For people who want to check out materials using curbside service, a simple call to the library to verify information is all that's necessary.
This National Library Week, for the first time, the Catawba County Library is also participating in Library Giving Day. The one-day event observed on Thursday, April 23, invites people to make a donation of any amount to the library Endowment, a permanent fund that ensures library services and resources will continue to empower lives and build community for future generations. To be part of this initiative and show support for the library, give now by using the Library Giving Day link on the library's home page.
People are also encouraged to show their appreciation and support for libraries by exploring the library's website, following the library on social media, and using the hashtag #NationalLibraryWeek. First celebrated in 1958, National Library Week is now observed nationally each April and is sponsored by the American Library Association (ALA) and libraries of all types.