Catawba County News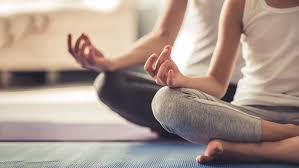 ---
Let's Yoga & Chill
Published: March 11, 2021
There's a lot to be said for fitness pursuits that honor the essential connection between mind and body. To treat one without the other denies the opportunity to bring strength and calm to the entire person.
We make sure that you get the full effect with our new series called Yoga & Chill. The monthly classes are a terrific introduction if you're new to the practice and great support if you already have a yoga regimen. Our certified yoga instructor offers a meditation for each session, followed by a selection of yoga poses and a brief wellness topic of the month.
We meet via Zoom, so you can enjoy the class from the comfort of your own surroundings while you stretch and center yourself at your own pace. This month's session meets at 9:30 am on Wednesday, March 17. To register and complete the waiver, visit https://tinyurl.com/ccls-yoga-chill.