Catawba County News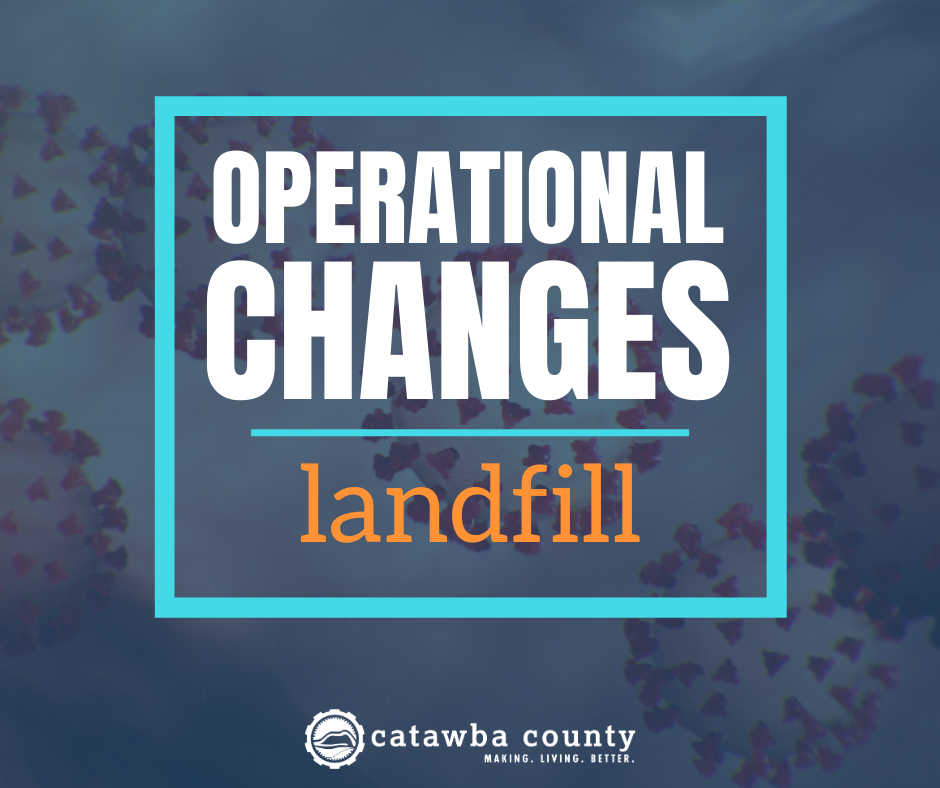 ---
County Landfill Operational Changes
Published: March 24, 2020
The Catawba County Landfill and five county Convenience Centers are open and operating on a normal schedule. In observance of social distancing recommendations, the Catawba County Landfill is making the following temporary changes to its operations:
Landfill offices will be closed to the public. A phone number will be posted at all office access doors. Visitors may call the number to get in touch with an employee for directions or answers to questions.
Scale attendants will operate as usual except for the provision of safety vests. Prepackaged safety vests will be handed out unopened and will not need to be returned.
Operators will perform load inspections and provide instructions from their cabs. As a result, this process may take longer and/or require customers to go to another dumping area.
Landfill and convenience center operational days and hours have not changed and are listed below as a reminder. Please call (704) 462-1348 with any questions or concerns.
Landfill Hours:
4017 Rocky Ford Road, Newton
Municipal Sanitary Landfill (Household Garbage)
Monday through Friday 7:00 am – 4:00 pm and Saturday 8:00 am – 11:30 am
Construction & Demolition Landfill
Monday through Friday – 7:00 am – 4:30 pm and Saturday 8:00 am – 11:30 am
Grinding/Mulch Area
Monday through Friday – 8:00 am – 4:30 pm and Saturday 8:00 am – 11:30 am
Convenience Center Hours:
Blackburn Convenience Center
3864 Rocky Ford Road, Newton
Monday, Tuesday, Thursday, Friday, and Saturday: 10:00 am – 6:00 pm
Bethany Church Rd. Convenience Center
2436 Bethany Church Road, Newton
Tuesday through Saturday: 10:00 am – 6:00 pm
Cooksville Convenience Center
3659 Rhoney Farm Road, Vale
Friday and Saturday: 8:00 am – 6:00 pm
Oxford Convenience Center
4637 Lookout Dam Road, Catawba
Wednesday through Sunday: 10:00 am – 6:00 pm
Sherrills Ford Convenience Center
8876 Sherrills Ford Road, Sherrills Ford
Thursday through Sunday: 10:00 am – 6:00 pm