Rules and Regulations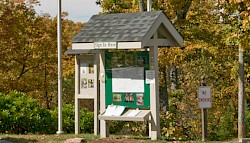 Be prepared. The parks are large acreage park facilities with some steep terrain. Pay attention to trail markers and map stands, and understand how to use both. Recommended items to bring include water, a park map, compass, and a cell phone (or whistle). Know your physical limitations. If possible, take a partner. If you become lost, go to the nearest map stand to help you determine your location, or call the park office for the quickest route back to the park office.
Use appropriate safety equipment. If biking, helmets and other safety equipment are suggested. Some of the bike trails are technical, very narrow and steep. If canoeing or kayaking, approved life jackets are suggested. Keep in mind that water levels and currents change rapidly.
Be alert. Wildlife is just that . . . WILD. Observe plants and animals from a safe distance. Watch for changing weather conditions and allow time to get back to your car before weather becomes severe. Wet trails can cause possible falls since the terrain is steep. Stay on the trails.
Take care of your park and be considerate of other users.
Camping and Fires: Camping is not allowed. Fires are only allowed in designated grills.
Safety gear: Wearing a helmet and any necessary safety gear when bike riding is recommended.
Dogs: Must have a valid rabies tag. Dogs outside the fenced dog park must be on a leash.
Children: Children under the age of 16 must be accompanied by an adult.
Lake Access: No swimming or wading.
Trash: Please throw trash in proper receptacles located throughout the park.
Fishing: Permitted only during park hours in designated areas or fishing pier. NC Wildlife Resources Commission regulations apply.
Drones: Not allowed.
Motorized Vehicles: Class 1, pedal-assist E-bikes are permitted. All other motorized vehicles are not permitted.
Guns and Fireworks: Fireworks, firearms and all other weapons are not allowed. Carrying legally permitted concealed handguns in Catawba County Parks is allowed.
Natural Resources: The removal of any plant, animal or artifact is not allowed.
Metal Detectors: The use of metal detectors is not allowed.
Hunting and Trapping: Not allowed. All Catawba County Parks are wildlife reserves.
Alcohol and Smoking: Smoking and the possession or drinking of alcoholic beverages is not allowed.
Picnic Shelters: Picnic shelters may be subject to reservation during high volume periods. Reservations must be made in person at the park office.