My Catawba County
We're Getting Social!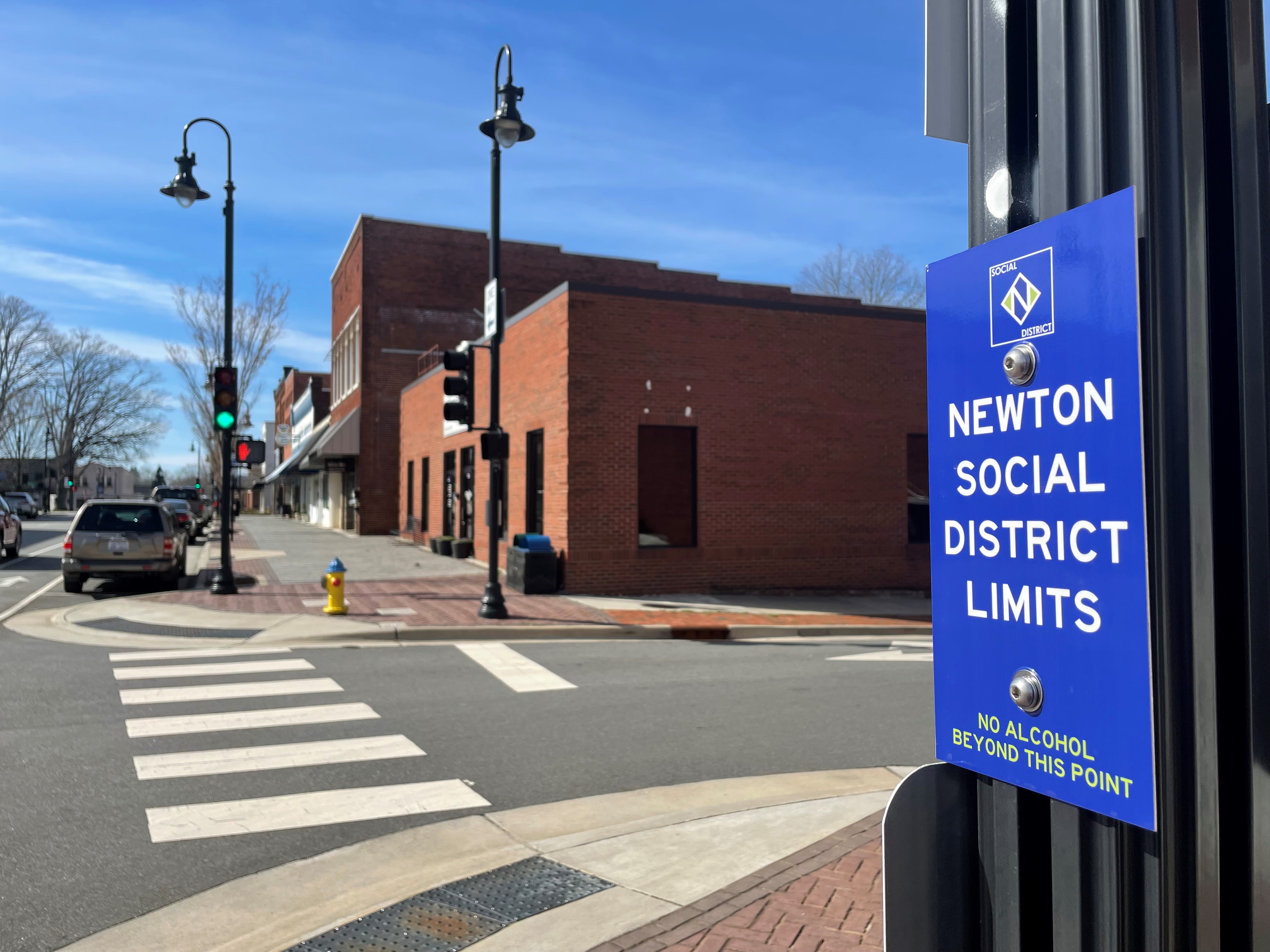 Social districts have recently been established in two of our community's vibrant downtowns: the Downtown Newton Social District, which was established in December 2021, and the Hickory Downtown Social District, which goes into effect today (March 15, 2022). To learn more about these districts, we reached out to City of Newton Public Information Officer Alex Frick and David Leonetti, Business Services and Redevelopment Manager for the City of Hickory. Here's what they had to say.
What is a social district?
ALEX: The Downtown Newton Social District is an area established by Newton City Council under authority recently granted to local governments by the North Carolina General Assembly. Within the district, patrons of permitted establishments may consume alcoholic drinks on designated sidewalks and in public areas as long as everyone follows rules designed to keep Downtown Newton a safe, enjoyable destination for everyone.
DAVID: A "social district" is an exception to North Carolina's open container law. The Hickory Downtown Social District allows citizens to enjoy alcoholic beverages in Hickory's newly revitalized downtown area. Patrons of downtown ABC permitted establishments can carry and drink an alcoholic beverage on sidewalks, Union Square, and other public areas within the designated social district boundaries.
Where are the social districts located?
ALEX: The Downtown Newton Social District includes sidewalks along A Street from Bost Avenue to College Avenue, 1st Street from Bost Avenue to College Avenue, 2nd Street from Main Avenue to College Avenue, Ashe Avenue from A Street to 1st Street, Main Avenue from A Street to 2nd Street, and College Avenue from A Street to 3rd Street. A map of the district is available at www.newtonnc.gov/socialdistrict.
DAVID: The Hickory Downtown Social District includes Union Square and portions of First Avenue NW, Trade Alley NW, Main Avenue, and Government Avenue SW. The district is roughly bounded by Fourth Street on the west, First Avenue SW and Government Avenue SW to the south, Second Street NE/SE and Main Avenue Way SW to the east, and First Avenue NW to the north. Signage is in place to mark the boundaries of the district. A detailed map of the coverage area is available at https://www.hickorync.gov/downtown-social-district.
What are the rules for the social districts?
ALEX: The Newton district has specific operating hours: 5 p.m. to 11 p.m. Thursdays, 5 p.m. to 11 p.m. Fridays, and 12 p.m. to 11 p.m. Saturdays. District operating hours are the only times alcoholic drinks may be consumed on the designated sidewalks and public areas that make up the district.
Alcoholic drinks purchased from permitted establishments within the district may not be taken outside district boundaries, and alcoholic drinks from outside the district may not be carried into the district. Patrons should familiarize themselves with district boundaries before visiting. A map is available at www.newtonnc.gov/socialdistrict. Blue "Newton Social District Limit" signs are posted at all district boundaries to let patrons know they may not carry alcoholic drinks any further. Patrons may not carry an alcoholic drink purchased at one permitted establishment into a different permitted establishment. Garbage cans are conveniently placed throughout Downtown Newton and at every district boundary for disposal of alcoholic drink containers.
Businesses that do not hold ABC permits—such as gift shops and boutiques—may decide whether to allow people carrying alcoholic drinks to enter. Businesses that allow people carrying alcoholic drinks to enter have a blue "Social District" sticker displayed in a window near the front entrance. If you don't see the sticker, don't carry an alcoholic drink inside.
Permitted establishments within the district provide patrons with alcoholic drinks in approved and labeled containers. Patrons must drink from the provided containers and may not remove the affixed labels.
Newton Police provide district security and enforce district rules. If you need a police officer while you're in the district, the quickest way to have a Newton officer dispatched is by calling 828-465-7430. You may always call 911 in an emergency.
DAVID: Several restrictions are in place to ensure the Downtown Hickory area remains a safe, family-friendly destination.
No outside alcohol is permitted within the district.
Alcoholic beverages may only be consumed in the Hickory Downtown Social District between the hours of 10 a.m. and 10 p.m.
All alcoholic beverages must be purchased from ABC permitted establishments located within or contiguous to the district (in specially labeled cups) and must be consumed within the district.
ABC permitted establishments must ensure they meet all legal requirements for carding and limiting consumption of alcoholic beverages.
The establishment can only serve two beers/wine drinks or one liquor drink to one patron at a time.
Upon leaving an establishment where an alcoholic beverage is purchased, the beverage must be consumed or discarded before entering a different business that serves alcohol.
No alcoholic beverages may be brought into or consumed within Lowes Foods City Park.
All alcohol in open containers must be disposed of before exiting the district or entering a vehicle.
Hickory Police Officers will enforce the restrictions of the Hickory Downtown Social District. Any potential violations should be reported to HPD at 828-328-5551 or the N.C. Alcohol Law Enforcement Division (1-877-ALE-AGENT).
Why did your city establish a social district?
ALEX: The Downtown Newton Social District is one component of a broad, long-range strategic plan designed to make Newton more appealing as a destination, a place to live, and a hub of business. With the widening of N.C. 16 to four lanes nearly complete, there will soon be a direct, 35-minute connection between the 1924 Courthouse Square and Uptown Charlotte. As the Northwest Charlotte Corridor develops, Newton City Council is crafting a vision for the future that welcomes entrepreneurs and new residents while avoiding the difficulties that arise during uncontrolled growth. In addition to quickly becoming popular with locals, the district is yet another selling-point for Newton regionally among people who are looking to invest, relocate, or just enjoy a pleasant getaway.
DAVID: Hickory's revitalized downtown lends itself to this type of social district. The City renovated Union Square and the surrounding block to be an inviting space for people of all ages to enjoy. Additional areas were created for people to dine outdoors, meet with others, and enjoy downtown entertainment. Restaurants and bars were especially hit hard by the pandemic. New legislation was passed in September 2021 to allow local governments to establish social districts within their jurisdictions to promote economic activity and drive traffic to designated commercial areas. Hickory's new social district is meant to stimulate the local economy and support downtown businesses by allowing citizens to take advantage of the community atmosphere created in the revitalized downtown.
Is there anything else you would like to add about the social districts?
ALEX: Anyone who hasn't visited Newton in a while would probably enjoy spending a day or an evening (or both) getting reacquainted with the City. In the few blocks that the social district encompasses, on any given day, a visitor may find more than one tavern with dozens of beers on tap, an award-winning live theatre performance staged for the whole family, the strums of an acoustic guitar drifting from a coffee shop, a fascinating exhibition highlighting a little-known piece of our shared history, a selection of first-run movies being shown on the big screen, and shop after shop filled with unique offerings. Downtown Newton is experiencing a renaissance, and we're excited to be building a bright future.
DAVID: Hickory has a vibrant downtown that continues to evolve and attract visitors from the local community, the region, and beyond. The City of Hickory is excited to launch this next step in crafting an enhanced downtown experience. Get ready to sip, stroll, and shop in downtown!