My Catawba County
Sailing in Hickory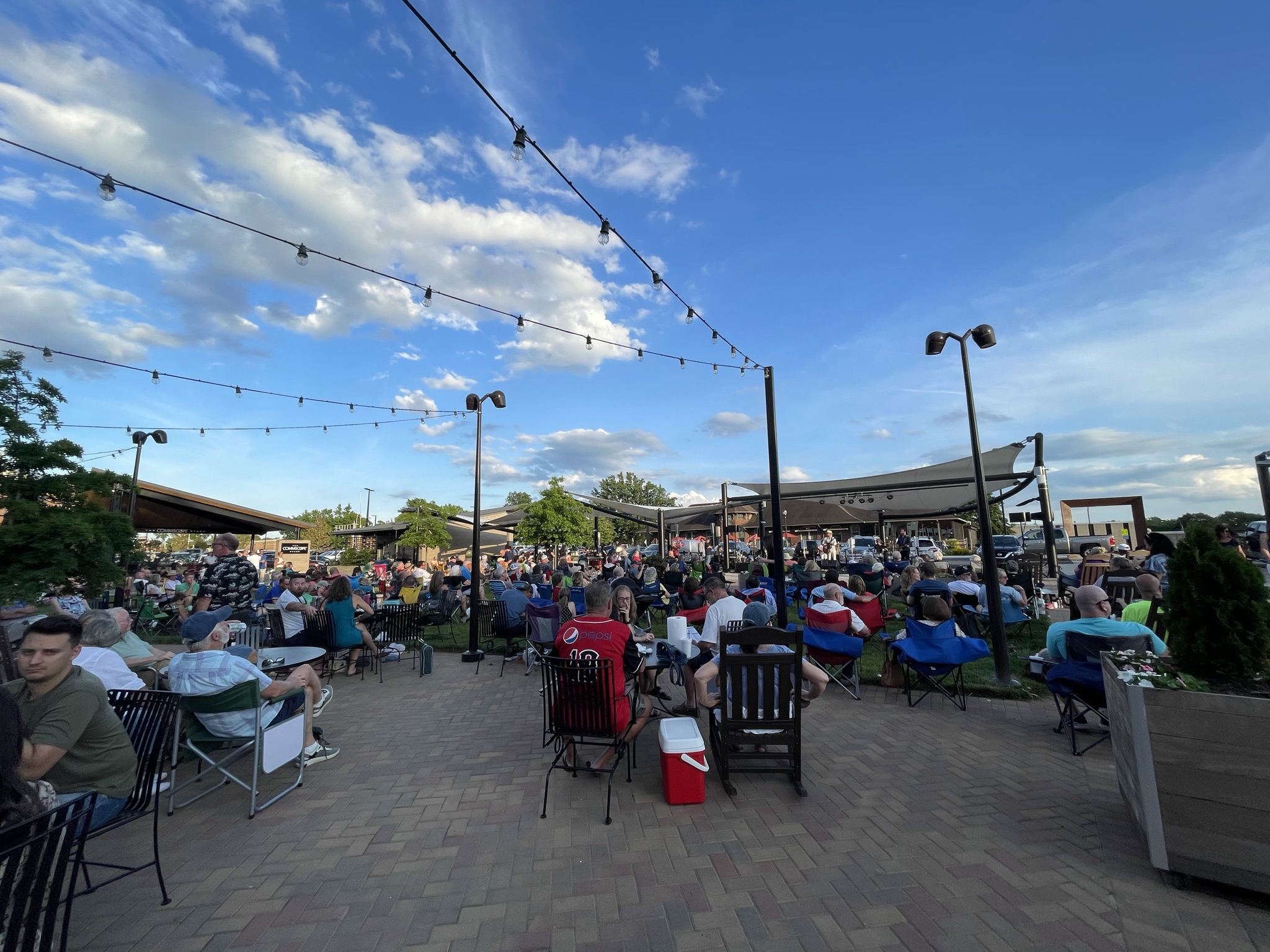 The City of Hickory's Sails Original Music Series is returning to downtown Hickory this spring and fall, bringing free concerts of live original music under The Sails on the Square as well as a special performance at the Samuel Davis Multipurpose Field in Taft Broome Park in September. We asked City of Hickory Communications and Marketing Manager Dana Kaminske to tell us more about this popular series that has continued to bring great music – and fun gatherings – to our community over the past decade.
Take us back to the beginning. When and why did the City of Hickory create the Sails Original Music Series?
The Sails on the Square in downtown Hickory on Union Square grand opened in 2012. The Sails Stage was created to attract local events and entertainment to the downtown, which is how the Sails Original Music Series originated, hosting the first line-up in September 2012. Since then, the series has continued Friday evenings in May, June, and September, adding October in 2021. Unfortunately, the series had to be cancelled in 2020 due to the pandemic. During the downtown renovation and the pandemic, the Sails Original Music Series adapted but it still continues to be a strong series and event for Hickory.
The intent of the Sails Original Music Series is to bring in national and internationally renowned bands that write and perform original music. The series has brought a multitude of bands from diverse genres like salsa, rhythm and blues, bluegrass, country, indie-rock, brass funk rock, West African, jazz, reggae, classical, and more.
How has the series evolved over the years?
The Sails Original Music Series has always brought in bands that pique new interests with rising artists to showcasing well-known bands with a large following. With Bob Sinclair as the City's music coordinator for the series, there has never been a lack of uniqueness and new sounds every year, as well as a few favorites that return to the Sails Stage.
Hickory, North Carolina was named No. 6 on ConventionSouth magazine's 2019 list of "The South's Top 8 Hidden Tracks of the Southern Music Scene." Readers and fans were asked to vote on destinations where groups can best experience unique music while holding a meeting or event, according to ConventionSouth Editor Marcia Bradford. The Facebook ballot provided a list of 17 thriving destinations from across the South not commonly known for their music-scene. After the vote, Hickory came in at No. 6 on the list! The Sails Original Music Series is a major reason that Hickory received this ranking.
What is the atmosphere of a typical Sails Original Music Series event?
The atmosphere is relaxed and chill. The series is outdoors, so depending what time of year it is, the temperature can fluctuate. Whether it is a spring, late summer, or early fall evening, taking in the downtown Hickory ambiance is always enjoyable. Attendees bring either blankets or lawn chairs and picnics, or you might be one of the lucky ones to scoop up a rocking chair or table on Union Square. There are plenty of restaurants and beverage establishments directly on Union Square, which attendees can patronize.
With the addition of the new Hickory Downtown Social District, it allows patrons of downtown ABC permitted establishments to drink an alcoholic beverage on sidewalks, Union Square, and other public areas within the designated boundaries of the social district. For more information about the Hickory Downtown Social District, special restrictions, and a detailed map of the coverage area, visit the Social District page on the City's website.
Any given Friday evening during the series, you will see individuals of all ages, young adults, and families with children enjoying the Sails Original Music Series. There is a wonderful mix of people from all backgrounds and ages who attend these concerts. It has been a great way to mingle with others, or just sit back and enjoy the music.
Why do you think the series has been so successful?
The series offers new sounds to the Hickory community, while also bringing in bands that are well loved and have had a following for years. The bands have unique sounds and there is never a lack of artistry and entertainment each week. The community has enjoyed having entertainment on Fridays in May, June, and September for years and look forward to bringing their family and friends to downtown Hickory to relax in the outdoor atmosphere, listening to great music, while also enjoying the local restaurants and beverages, provided by local establishments.
It is a free series that doesn't require tickets or reservations. Just show up. Bring a blanket or a chair. Grab some food and beverages from local establishments. Relax and enjoy the music in the beautifully renovated downtown Hickory. You won't be disappointed with the Sails Original Music Series.
How can people learn more about the Sails Original Music Series?
I would first encourage people to come to the events. Even if you don't know the band or artist, you might be pleasantly surprised to learn something new. I know I have. There is a Facebook page dedicated to the Sails Original Music Series. That is a great way to learn more about the series and band line-up each year. The third way is to check out the press release each week in the Newsroom on the City's website.
2022 SERIES LINEUP:
May 6 - Danielle Howle
Folk musician gone rogue. Her 4-piece band is currently opening for Indigo Girls and Blues Traveler.
May 13 - The Get Right Band
Infectious Indie-rock. The band returns to The Sails with a brand-new CD.
May 20 - Jive Talk
High energy, pop-rock band from Nashville. Is this going to be a breakout band?
May 27 - The Wildmans
Young and fun. An up-and-coming Neo-traditional string band.
June 3 - Reliably Bad
A big funky band. Enthusiastic young funk/soul octet. Dancing required.
June 17 - Alexa Rose Band
Beautiful Virginia native brings highly acclaimed, original, Americana country to The Sails.
Sept 2 - Greg Humphreys Electric Trio
Big personality NYC band leader brings his power rock trio to town.
Sept 9 - Miss Tess
Lovely Tess and her Nashville-based band have it all - jazz, country, blues and old school rock and roll.
Sept 16 - Jake Blount
A multi-instrumentalist and vocalist who draws upon old-time, bluegrass, and blues influences. He specializes in the traditional music of African Americans and indigenous peoples of the Southeastern Woodlands. *Performance at Samuel Davis Multipurpose Field, Taft Broome Park
Sept 23 - Randall Bramblett Band
An extraordinary group of rockers from the Athens area. Randall plays with Widespread Panic, Bonnie Raitt, Government Mule, and anyone else who plays good rock and roll!
Sept 30 - Lonesome Ace Stringband
Mesmerizing old-time band from Canada with bluegrass chops that plays righteous folk and country music.