My Catawba County
Movie Buffs Rejoice!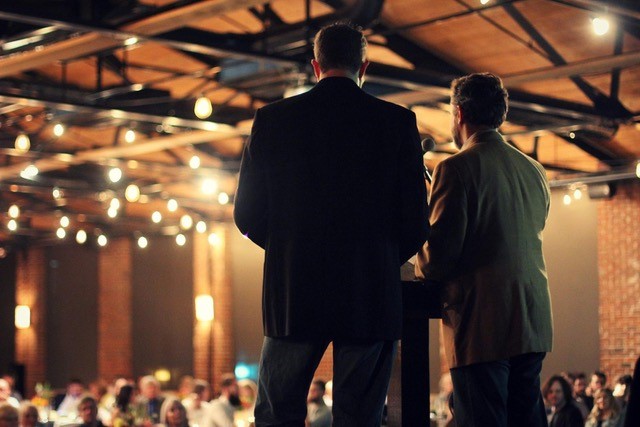 This is the week local movie buffs eagerly await each year: the week of the Footcandle Film Festival. Started in 2015 by members of the Footcandle Film Society, including society co-founders Chris Frye and Alan Jackson, the Festival brings independent feature length and short films to Hickory for several days of screenings, discussions, and awards. To learn more about the society and its namesake festival, we asked Chris Frye to fill us in.
What is the Footcandle Film Society?
The Footcandle Film Society is a group of about 600 film enthusiasts that gather together once a month to watch a movie and hold a discussion afterwards. Films screened are smaller independent selections that don't normally get a chance to play at the local multiplex.
What inspired you to start the Footcandle Film Society?
Being a fan of independent cinema, I grew weary of driving an hour or so to watch a film I was interested in but wasn't screening locally. I also enjoy talking about the merits of a film after watching it. On one such occasion, in December, I stood in the parking lot of the local theater and discussed a film while shuffling my feet to keep warm. This made me think, "There has to be a better way."
When was the project founded, and how has it evolved over time?
The society was started in February of 2008. We held one screening a month in the upstairs auditorium of the Carolina Theater. As the society grew, we expanded to hold two screenings on consecutive nights once a month and moved to the larger downstairs theater. In 2015, after years of planning and research, we held our first film festival in late September. We'll be holding our 7th Annual Footcandle Film Festival this year from September 21-25. A filmmaker grant program made possible by the festival proceeds was also started in 2018 with the purpose of helping North Carolina independent filmmakers create their art.
What is one of your favorite memories from this project?
Our society was still relatively small in the fall of 2011. We had heard of the French film THE ARTIST and thought it would make a good selection for a society screening. The crowd that turned out was immense with a line forming down the street. We sold out the screening, and membership has been growing ever since with a wait list becoming necessary due to demand and limited theater capacity.
How can Catawba County residents get involved?
If you are interested in joining the Footcandle Film Society and would like to be placed on the wait list, send an email to info@footcandle.org. The annual film festival is open to the public (no society membership necessary) with tickets available for purchase now at www.footcandlefilmfestival.com.