My Catawba County
Meet Our Rangers: John Sutton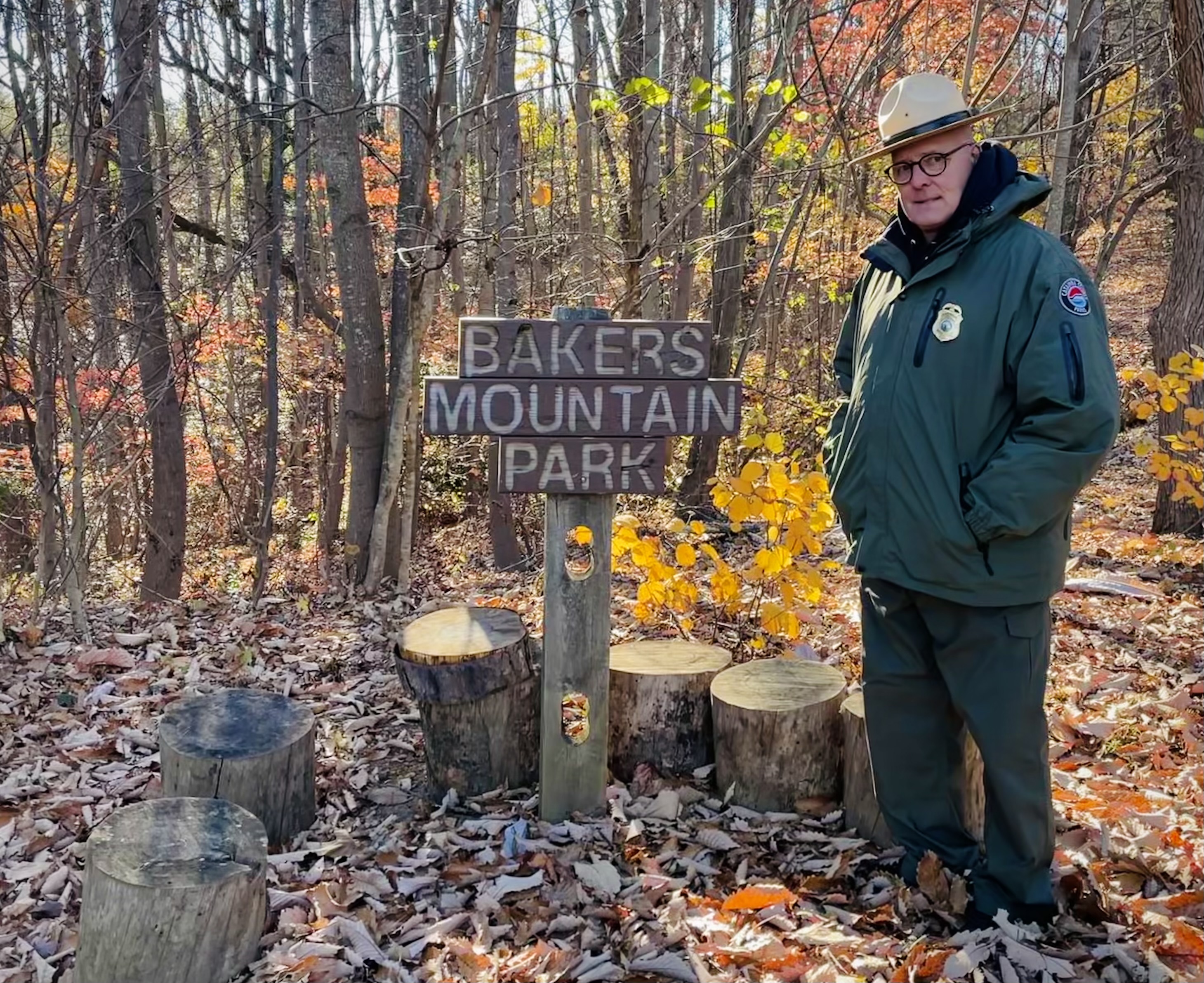 This is the first in a series of Q&As profiling rangers from the Catawba County Park System, who work to ensure residents and visitors have access to the county's great outdoors seven days a week (with the exception of Thanksgiving Day, Christmas Eve and Christmas Day). This large-scale system is comprised of four parks: Bakers Mountain in Hickory (189 acres on the county's highest peak); Riverbend in Conover (690 acres along the Catawba River); St. Stephens in Hickory (9 acres with a large dog park on the outskirts of the city); and the soon-to-be-opened Mountain Creek in Sherrills Ford (606 acres with 18+ miles of hiking/biking trails on the shores of Lake Norman). This month, we're learning more about Bakers Mountain Park Superintendent John Sutton, who has worked at the park for the past 20 years.
Name: John Sutton
Age: 60
Where are you from? Fayetteville, North Carolina
How long have you been a ranger? 20 years
Educational Background: Performance Diploma from Berklee College of Music; Bachelor's Degree in Music Education from Pembroke State University (now University of North Carolina Pembroke); Associate's Degree in Park Ranger Technology from Wayne Community College
Park currently working at: Bakers Mountain Park
How long have you been at that park? 20 years
Area of expertise/specialization/interest: Interpretive education, research, leading nature walks, studying wildlife and ecosystems
What inspired you to become a ranger?
A passion for learning about the unique biospheres of different ecosystems and finding a way to preserve them for the future generations. I've been drawn to nature since a young age; I grew up in the woods. I've always had a passion for birdwatching, collecting leaves, enjoying and studying nature.
What do you most enjoy about being a ranger?
Sharing the value of the unique role our park plays in the Catawba County biosphere. I especially like it when kids come out to the park, particularly on field trips from the city, as oftentimes it's the first time they've ever been in the woods. Then to see them when they leave and they're smiling and waving and they've had a good time, I realize, "Wow, that was a good experience for them, their first time." I think things like that they will remember the rest of their lives, because it was a unique experience for them. I still remember the field trips I went on when I was in school; I do remember each of them very well. They stood out, and I think that same thing would apply to our children today.
Tell us about your favorite moment, memory or experience as a park ranger.
That's a tough one; there are so many of them. I'm going to narrow it down to one; there are so many other ones I hate to leave out, but I just can't list them all.
I think probably the first really unique one was my first bird walk that I was guiding here at Bakers Mountain in May of 2003. I think it was May the 10th, if I'm not mistaken, of 2003. It was relatively unremarkable most of that day, but we were coming down the mountain and we saw three large raptors way up high. All of us were getting our binoculars out, we're looking, and we figured they obviously had to be eagles of some kind. There weren't any signs of bald eagles, and we were all looking around and all of us were a little bit baffled. We were like, "What in the world?" We got a good look at them; fortunately there was a juvenile there and that's what gave it away. They actually ended up being golden eagles, which for us, especially in May, was something I would've never expected to see; that was unique.
Ironically, we had some subsequent visits from golden eagles over the next two or three years or so but I haven't seen them probably in a little over 10 or 15 years now. I'm not sure if they were just here temporarily. I was hoping that since they had a juvenile with them, that they may have had a nesting pair possibly here or somewhere in the physical area. But I haven't seen any signs of them since.
What is your favorite feature, aspect, or spot at Bakers Mountain Park?
I like the unique combination of flora and fauna we have here at Bakers Mountain. I think what's most interesting to me is that in some of the biomass, especially on the flora part, we combine interesting species that are unique to the coastal plain with things that are unique to the mountains. You can see both of them here; you can just take one trail or walk and see, "There's a coastal plain species right here, and then there's a mountain species right there." It's a unique blend, I think, and it's not just one spot. It's a lot of different areas in the park.
And each season brings a totally different atmosphere and biosphere for us; things change here seasonally quite a bit especially with plants and animals. It's pretty neat. This time of year is totally different from mid-summer. Then mid-spring, when all the migratory birds are coming through, the park changes again, especially with all the wildflowers, which disappear once the leaves come out and the flowers just don't have any sun anymore. You can have a completely different experience here at the park depending on the season.
Overall, I think the fact that the park has such a unique blend of stuff is kind of cool. And even though there are other monadnock ecosystems in the area like Crowder's Mountain, none of them are exactly the same. They're all just a little bit different; there are unique features to each of them. I think the unique combination that we get is quite ironic and very interesting.
How are parks making living better in Catawba County?
Catawba County Parks are making living better by contributing green infrastructures along with open spaces, which in turn augments the county's quality of life. Our parks provide an ecological framework for environmental and economic sustainability while benefitting public health and personal wellness through passive recreation opportunities. Additionally, our rangers host a variety of community events in the form of unique cultural, historical, artistic and bio-scientific environmental education programming to engage visitors and residents in nature. Another often overlooked way that our parks make living better in Catawba County is by enhancing economic development by boosting property values, increasing municipal revenues, enticing home buyers, and attracting workers, families and retirees.