My Catawba County
Happy Birthday, Bakers Mountain!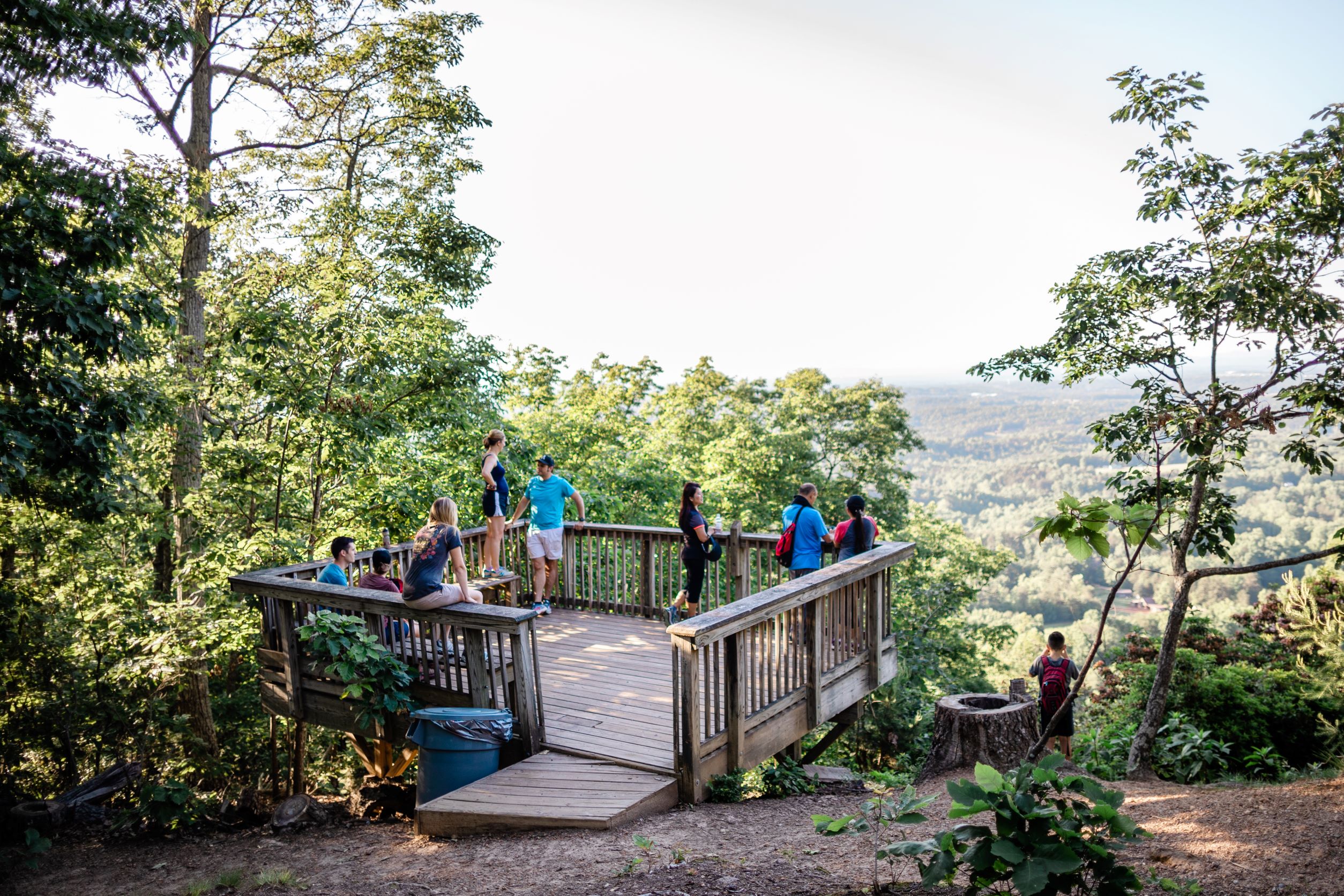 This month, Bakers Mountain Park (part of the Catawba County Park System) celebrates its 20th birthday – but the history of the site goes back several centuries. To honor the park's legacy, Catawba County Parks Marketing Assistant Anna Hall researched the history of Bakers Mountain and talked with park regular Tom Abernathy to learn more about what this site has meant to residents then and now. Read her article here:
On the southwestern side of Catawba County, a conspicuous feature protrudes above the horizon — a prominent mountain standing guard over the area, marking the county's highest point, offering a perfect spot for recreation.
Rising 1780 feet above sea level, Bakers Mountain has been a well-known local destination for centuries. Named after the Baker family who settled in its shadow in the late 1700s, the mountain has served as a hideout for the Tories during the American Revolutionary War, the site of family picnics, church outings and religious pilgrimages, a playground for local youngsters and a retreat for its visitors.
In the early 1900s, area picnickers and local church groups would gather at the private land of Calvin Baker at the base of the mountain. Of note was the First Baptist Sunday School annual picnic, an all-day event held each July, attracting a turnout of over 200. With the mountain towering above the beautiful property adorned with exotic lily ponds, the spot was an idyllic setting. A trek up Bakers Mountain for the awe-inspiring view was a customary adventure at these historic events.
Area resident Tom Abernathy has been coming to Bakers Mountain since he was a teenager. "We used to ride our bikes up from Mountain Grove Church and coast back down, and we just loved coming here. People would hike up at night for the gorgeous view. Local churches would hold Easter sunrise service on the eastern slope of the mountain, leading a procession up the long 17-curve road which they have since straightened out."
Now a county park that is celebrating the 20th anniversary of its June 2002 opening, Bakers Mountain continues to serve as a popular attraction. With nearly 6 miles of hiking trails including a quarter-mile ADA accessible trail, it's a great place for exercise and time outdoors. An observation platform at the top of the mountain offers a fabulous view of Hickory and the Catawba Valley; on a clear day, one can even see as far as Grandfather Mountain and Mount Mitchell. Along the way in the 189-acre park, turn of the century home sites, a gently flowing stream, a natural boulder outcropping, several clearings and numerous benches provide excellent stopping points for a wonderful outing in nature.
At 85 years young, Tom Abernathy still visits the mountain six days a week. "I've probably been up here more than anybody. I do enjoy coming; it's just a beautiful place and there is so much to see."
Bakers Mountain Park, located at 6680 Bakers Mountain Rd. in Hickory, is currently open seven days a week from 8am - 8pm (hours vary seasonally). It is one of four parks in the Catawba County Park System, which also includes Riverbend Park in Conover, St. Stephens Park in Hickory and Mountain Creek Park (opening June 18 in Sherrills Ford). For more information about Bakers Mountain Park and to read more of Tom Abernathy's story, visit www.catawbacountyparks.orgor follow Catawba County Parks on Facebook and Instagram.