My Catawba County
Folk Art Festival Returns!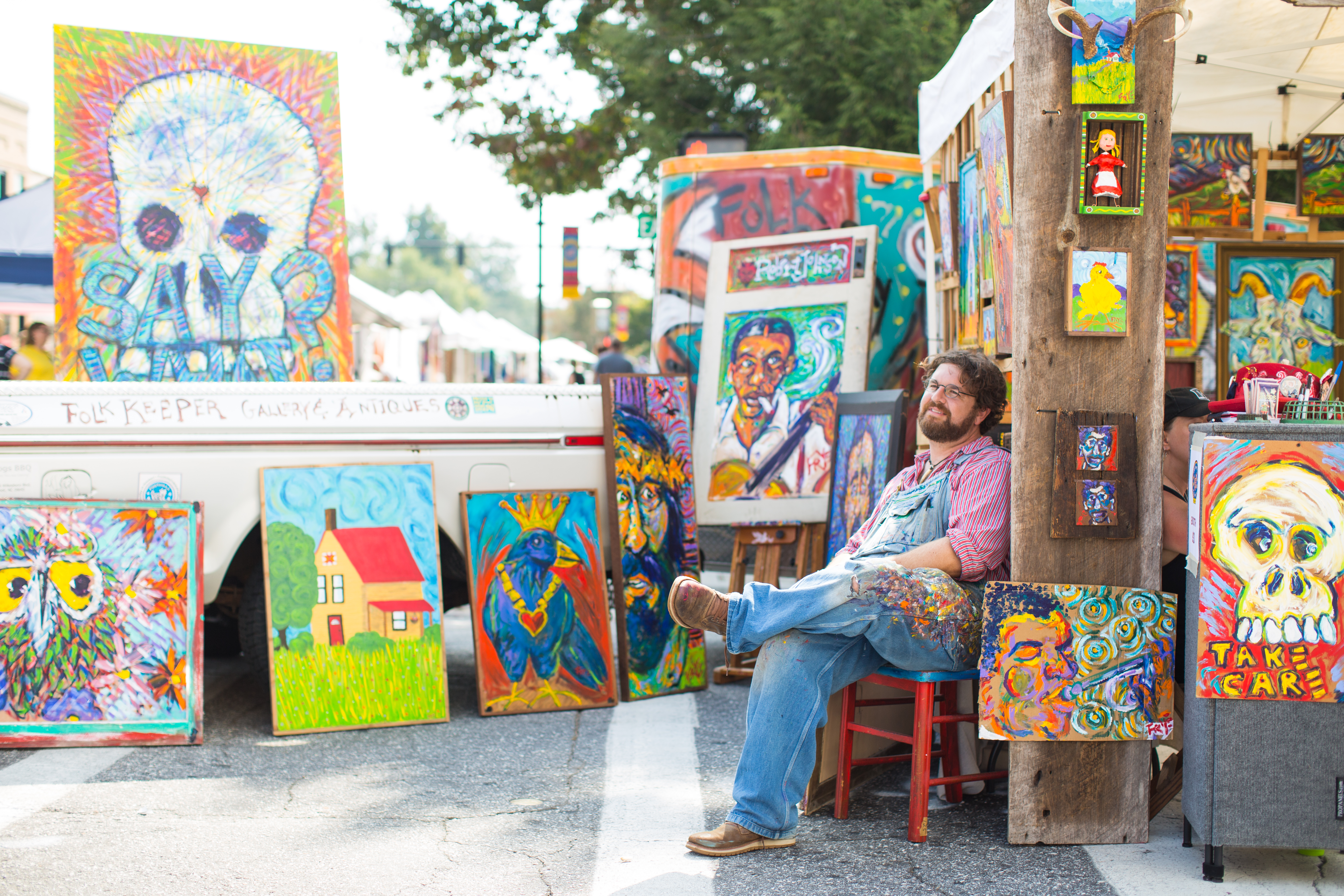 A popular tradition is returning to Downtown Newton Saturday, May 14 – the Foothills Folk Art Festival. Folk art has become synonymous with Catawba County thanks to the Hickory Museum of Art's longtime permanent exhibit of Southern Contemporary Folk Art, and this festival helps celebrate those roots and recognize current artists in the field. Downtown Newton plays host to the festival, which features juried exhibits, vendor booths, music, food trucks, beer gardens and more. To learn more, we reached out to Hickory Museum of Art Associate Director Clarissa Starnes and City of Newton Main Street Director Mary Yount. Here's what they had to say.
What is the Foothills Folk Art Festival?
Clarissa: The Foothills Folk Art Festival is a juried, folk-art themed show that will welcome the country's finest contemporary folk artists to Downtown Newton on Saturday, May 14, from 10 a.m. to 4 p.m. The festival's artist committee carefully selects a variety of artists whose work is intensely influenced by and displaying the spirit of folk, visionary, and outsider art. Hickory Museum of Art (HMA) and Downtown Newton Development Association (DNDA) are excited the festival is returning for its fifth installment in Downtown Newton thanks to a partnership between the two organizations.
Mary: It's the partnership between HMA and DNDA that really moves the Foothills Folk Art Festival forward and makes it such a spectacular event for our community and the region. HMA's major holdings in Southern Contemporary Folk Art and ongoing work to foster and preserve the work of folk artists give Clarissa and her team unparalleled lines of communication with the artists at the heart of the festival. The DNDA, with assistance from around 100 volunteers and an incredibly supportive group of merchants and property owners, is able to round out the festival with entertainment and activities that complement the festival's theme and make sure festival day offers a little something for everyone.
What can people expect to see and do at the Festival?
Clarissa: As we organize the festival, we really do work to ensure the day's offerings include something to entertain just about anyone. Children's art activities on the 1924 Courthouse lawn will include a STEM activity led by the Western Piedmont Council of Governments and an art-making station led by HMA where children will make upcycled pieces art to take home. From rock to bluegrass to reggae, concerts scheduled the duration of the event will keep the streets filled with a range of fun, upbeat sounds.
Mary: In addition to the delicious Downtown Newton restaurants on and around the 1924 Courthouse Square, we've arranged for a variety of food trucks to attend, adding such varied offerings as donuts, lobster, eggrolls, and barbecue. For adults, there will be two beer gardens, and this year will be the first year Downtown Newton's permitted establishments may serve alcoholic drinks for consumption within the Downtown Newton Social District. The district is made up of designated sidewalks and public areas where permitted alcoholic drinks may be consumed as long as patrons follow rules designed to keep everyone safe. If you're unfamiliar with the Downtown Newton Social District and would like to sip some suds as you enjoy walking the festival, find details and www.newtonnc.gov/social.
Downtown Newton is excited to show off the ongoing infrastructure revitalization that is strengthening the economic and cultural vitality of not only the City's central business core, but the community as a whole. The festival is the perfect opportunity for guests to see investments paying dividends as private development surges around the 1924 Courthouse Square and elements of revitalization projects make Downtown Newton a more inviting, accessible place to spend time, do business, and have fun.
What does it cost to attend the Festival?
Clarissa and Mary: Attendance is free, with food and drinks available for purchase. One-of-a-kind pieces of art come with a wide range of values, and most pieces at the festival will be priced between $5 and $500.
How and why did the Foothills Folk Art Festival get started?
Clarissa: The roots of the festival go back as far as 2005 when HMA presented its first folk art festival as part of a series of exhibitions, publications, and related programming following the accession of 153 folk art objects from the collection of Barry and Allen Huffman of Hickory. Over the years, the festival was held in different locations, most recently as the Lake Norman Folk Art Festival in Sherrills Ford before moving to Newton in 2016.
Mary: The Lake Norman Folk Art Festival was a wonderful event organized largely by a core group of dedicated volunteers who needed a rest after growing and expanding the scope of the festival over the course of several annual years. Conversations between DNDA and HMA led to the formation of a partnership that began as the 2016 Foothills Folk Art Festival and continues to this day.
How does the Festival benefit the community?
Mary: The festival brings several thousand visitors to Downtown Newton, many of whom have never visited before, and showcases the historic charm of the 1924 Courthouse Square and Newton overall. It's also a great day for Newton's merchants, bringing a surge in foot traffic and shoppers. As Newton's signature annual event, members of our community are highly invested in the Foothills Folk Art Festival, both through sponsorships and through volunteering their time and talents to create one of the country's most noted celebrations of contemporary folk art and artists.
Clarissa: HMA's mission is to bring people together and inspire creativity through the power of art. The festival aligns perfectly with that mission on nearly every level.
Who is involved in making the Festival happen?
Clarissa and Mary: The list of people and organizations who make the festival happen goes on and on. The named sponsors recognized on the festival website, in print, and at the festival itself donate the funds that allow DNDA and HMA to create the caliber of experience our guests have come to expect while generating funding for our organizations. We offer a big thank you to the City of Newton, the members of the festival Artist Committee, Music Committee, Sign Committee, Marketing Committee, Volunteer Coordinator, and other event planning volunteers. Lastly, to guildHMA and HMA Staff, the DNDA Committees, and the Festival Executive Committee!
Is there anything else you would like to add about the Festival?
Clarissa and Mary: We're excited for the return of the Foothills Folk Art Festival after postponements in 2020 and 2021 in consideration of public health. DNDA and HMA plan to retain this year's shift of the festival date from October to the second Saturday in May annually. So, we hope to see you soon on Saturday, May 14, and save the date for next year's festival on Saturday, May 13, 2023!