My Catawba County
Calling All Mountain Bikers!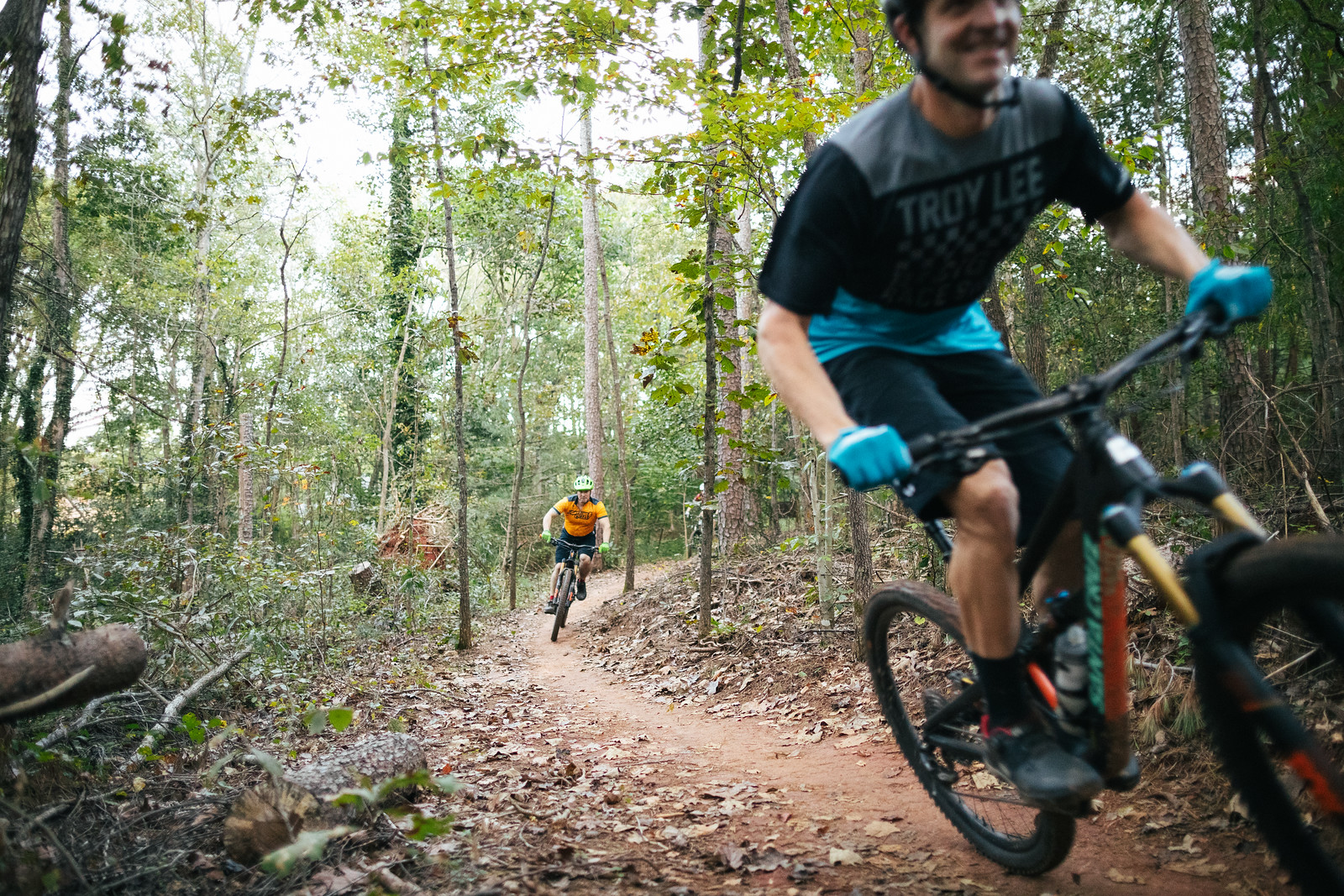 With Mountain Creek Park set to open 18+ miles of mountain biking trails later this spring, our ears perked up when we heard about the Lake Hickory Short Track Mountain Bike Series coming to Lake Hickory Trails this March and April. Hickory Parks, Recreation & Sports Tourism is partnering with North Carolina Cyclo-Cross (NCCX) to bring this event series to Hickory, and from what we can tell, it's going to be one wild ride. To learn more, we reached out to Lance Riddile, Hickory Parks, Recreation & Sports Tourism events coordinator for the City of Hickory.
What is the Lake Hickory Short Track Mountain Bike Series?
Short track mountain bike racing is typically a 20-40 minute race event with staggered starts for each race category. Courses are between 1.25 miles and 1.75 miles in length. The course terrain can vary from flat surfaces to steep slopes and anything in between.
The Lake Hickory Short Track Mountain Bike Series will be utilizing two unique courses. One for beginners and first-time racers, and a second course for advanced and expert level racers. We anticipate both courses to be fast and challenging.
What is the series format?
We have a total of 19 different race categories. Each category has its own race. Some are timed races and some are scored by a given number of laps.
The race series is based on point totals. Points are assigned for the place you finish per race. At the end of the series (5 races), points are added up and the top three racers of each category will receive awards/prizes. In the expert fields, there will also be cash payouts. The top three finishers of each individual race on each race day will receive awards as well.
Who is eligible to compete?
Anyone over the age of 10 years old can race. There is a variety of skill and age group categories for males and females to choose from.
How did this series end up coming to Hickory?
I am a passionate two-wheel guy and I've always loved mountain biking since my high school days in the early 80s. I've always been a part of recreation events and programs linked to outdoor activities. This seemed like the perfect time for our department to introduce biking events in our area.
First, we focused on Cyclo-Cross because it was easy to establish in a park setting and offers a great opportunity for spectators and racers in a fun atmosphere. We built a relationship with Tim Hopkin, Owner/Director of NC Cyclo-Cross, who has been running bike races of all kinds for over 25 years. Between his deep knowledge, experience, and lots of conversations with local mountain bikers, we decided it was a great time to offer mountain bike races at Lake Hickory Trails.
The trail system is maintained by Northwest NC Mountain Bike Alliance based out of Hickory. We also have some great local bike businesses in the area, so it became a natural fit for us to unite all these players to create something special in the mountain bike world, right here in Hickory.
What makes Lake Hickory Trails a good venue for an event like this?
For racers, features on the course can be challenging with fast downhills, high banked turns, some tough climbing including switchbacks, and the inclusion of our pump track. The combination of all these will test the racers' endurance.
For spectators, there will be some great opportunities to view races from various vantage points above the course and at the start/finish areas.
For athletes who live in the Hickory area or are coming from other locations, Lake Hickory Trails (A.K.A. Hickory City Park), located right off U.S. 321, is easily accessible from all directions.
How can spectators enjoy the events?
The races are free to spectators. They are welcome and encouraged to bring noise makers, such as cow bells, to encourage and cheer on the racers. Spectators can bring a camping chair to set up once they've found the perfect spot to view the races. There will also be food trucks and other vendors available throughout the day.
Is there anything else you would like to add about this series?
As mentioned earlier, this series has been a collaborative effort with various groups within and outside of Hickory:
Northwest NC Mountain Bike Alliance for assistance with course design and approval.
North Carolina Cyclo-Cross (NCCX) for partnering with Hickory Parks, Recreation & Sports Tourism to provide this racing experience.
The local bike shops and bicycle related businesses (Carolina Pedal Works, Lightning Cycles, Rock N Road Bicycles, DeFeet International, and Hickory Velo Club) for their input, sponsorship, and passion for cycling.
We encourage everyone to come out one Sunday or all five and enjoy a great day of racing in one of our wonderful Hickory parks.
Series Details
Event Dates: March 6, March 13, March 20, April 3, April 10
Races start at 9:00 a.m.
Location: Lake Hickory Trails, 1581 12th St Dr NW in Hickory (next to the Hickory City Park trailhead)
Participants can register for individual races or the entire series
Races will be divided into different categories by age and skill level
The event is open to anyone ages 10 and up
Online registration for the race can be found at https://www.bikereg.com/events/NCCX/?ns=Lake%20Hickory
For more information, contact Lance Riddile with the City of Hickory at 828-261-2254 or lriddile@hickorync.gov