Soraya & George Place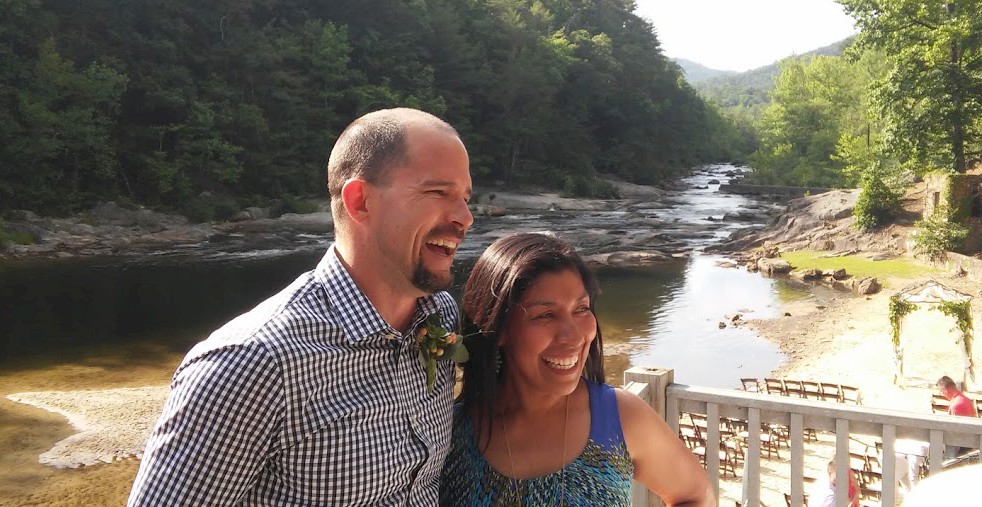 George Place
Age: 43
Resides: Hickory
Family: Wife Soraya
Occupation: Director, Catawba County Cooperative Extension
Soraya Place
Age: 42
Resides: Hickory
Family: Husband George
Occupation: Spanish Instructor, Lenoir-Rhyne University & Community Outreach Specialist, Catawba County Library System
Soraya, let's begin with you. How would you describe your occupation?
SORAYA: So, I have two. I'll start with the library. It's hard to explain what I do, because I do a lot of things. I was initially hired to be the outreach person for the Hispanic community. Now I also do programs for the Hispanic community and I buy books in Spanish, among other things. I work with a lot of Spanish speaking people who don't speak English very well. My job is to help them with any need they have and help them learn about the resources in the county.
I also teach Spanish at Lenoir-Rhyne. I love it because I'm teaching in my language and it's super easy for me to do that. I like working with youth and empowering them. It's very rewarding to see them form a sentence in Spanish and then fall in love with the language and take a second level class. Some of them want to get a minor or major in Spanish. I have some students who are studying abroad because they fell in love with the language.
What I like about everything I do is that I am still practicing and using my culture and my language, the things that are really me and the things that really make me feel happy and comfortable.
GEORGE: It's interesting how she's a bridge between cultures. At Lenoir-Rhyne, she's connecting folks from this area to Latin culture. Then likewise at the library, for people who have Latino roots, she's connecting them with the culture in Catawba County. She's a culture bridge for a very significant part of the growing population.
SORAYA: And it goes both ways, because a lot of people in this county probably have never traveled abroad or had any experience with foreigners. So they will come with questions, and it's another way to educate people and teach them what the culture is or why we do things this way. It's very hard for people to understand why we don't we speak English when we aren't in a Spanish-speaking country. People don't understand that it's just so much easier and faster to communicate with the words we want to say. Jokes are not the same in English as they are in Spanish.
George, how would you describe your occupation?
GEORGE: Well, my elevator speech for our organization is that we are the outreach organization of the two land grant universities in North Carolina, NC State and NC A&T. At the Cooperative Extension Service, we provide consultation and educational training in food, agriculture and 4-H.
If I were to describe it to friends or in a more informal way, I'm responding to public needs in those areas and those needs are always changing. You never know what kinds of questions and challenges people have as we move into the growing season. I might have an entire day scheduled and one of our biggest produce growers might call and say, "We have something terrible happening in a field, can you come now?" Because every day they delay on making a decision is costing them, and they've got over $10,000 per acre invested.
I like that because it makes me feel valued, that our organization is valued. I like knowing I'm assisting people. I would say that my top value is what I call mutual empowerment. If I'm working with somebody and I see the light really go on for them, then the light goes on for me. I'm in the perfect position to do that.
How long ago did you move here?
GEORGE: We moved here in December 2014.
Soraya, where did you grow up, and how did you get to Catawba County?
SORAYA: Oh my god, it's a long way.
GEORGE: It's a great story.
SORAYA: I was born in El Salvador and I was raised there. I went to the University there and got my degree. I was working there when George joined the Peace Corps.
GEORGE: You skipped so much. Can I just say something real quick? There's a key part of Soraya's story that she's got to share here, part of Soraya's motivation to do what she does today. Her mom raised her in a single parent home during a civil war under all kinds of very scary pressures.
SORAYA: Earthquakes, hurricanes, civil war…
GEORGE: Gang pressures. They were robbed in their house, at one point herded into their bathroom thinking they were going to be executed.
SORAYA: We had to flee a couple times because the civil war was getting so bad in our neighborhood. It was five of us, and my mom and my grandmother, so seven. And the dog. So you just got whatever you could, and you couldn't get much because you could hear the bullets going on around you. We jumped in the car and just left. We went to stay with an aunt about an hour away. We stayed with her for 10 days.
Luckily the earthquakes were not big where we lived, so we were able to stay home when they happened. But we went to the town where my mom grew up to help them rebuild or just cook for people who lost everything.
My mom was a servicewoman. She would always go and help other people, and she brought us with her. That's how I learned I wanted to be like my mom. I always saw what she did. If somebody was suffering she would say, "Oh my gosh, we have got to go and help them."
And that's what I do here, at the library. People come here and they might think no one will listen or nobody will help them because they don't speak English. And I am there to help find an answer. We will find a way. That's what we did in El Salvador.
I went to school there, and I received a bachelor's degree in special education. I worked with Down's syndrome kids, people with a lot of disabilities. I was a speech therapist, too, and doing this same kind of work. Helping these people find an answer to their needs when they think there's nothing for them, or when they think they don't deserve it because they don't have the money or they don't speak the language.
GEORGE: To me, to understand Soraya, the real thread is all the challenges she overcame, all the things she faced down. I always like to think of what she learned from her mom. As much of a struggle as it was, her mom fought to send every kid to school.
SORAYA: She worked so hard, and she always wanted us to get an education because she didn't. She just got a high school degree and she always knew if we got an education, it would be so much easier. She saved money, and every weekend she took us somewhere fun. She always managed.
When my dad died, she didn't even know how to drive our car. She had a job at home, but she was never exposed to the outside world because she was with the kids. She had to learn how to drive to take us all to school. My dad had a business [a diesel engine repair shop], and it was all men. She had to sit at this table and face all these men who probably thought, "What are you doing here, you are a woman, you should be home," because in El Salvador, machismo is big.
When my dad was alive, we didn't have much money. But when she was in charge, oh my god, she bought two different cars, she bought a big truck because they had land and needed to transport the sugar cane from one side to the other. She saved so much money, she did so well.
So how did George come into the picture?
SORAYA: He joined the Peace Corps and they sent him to El Salvador. He lived in the village where my mom grew up, where we were affected by earthquakes. The main highway was closed to the town where he received training, so he had to go a different way. I was traveling with my cousins and he was hitchhiking, and my cousin picked him up. I was in the back of a truck with 20 other people and he just jumped in the truck and that's how we met. In El Salvador. Because the highway was covered in mud from an earthquake that just happened.
George, how did you get to this point? Where did you grow up, and what did your path look like?
GEORGE: I grew up in Kansas City. I was high energy young man who found myself getting in trouble a lot. I learned how to channel it for good. But when I was younger, I would channel it for bad. And I got into a lot of trouble.
A life-changing moment for me was when I stepped into a martial arts studio. I was finding myself in situations where I got roughed up pretty good, so I had motivation to learn how to defend myself seriously. That training gave me lot of discipline. I was 18 at the time and took it very seriously. In a lot of ways, I shifted my whole life focus to doing that training.
I worked my way to becoming an assistant instructor, and I thought I wanted to have my own karate school because it was very much in line with empowerment. The studio was about using martial arts as a vehicle to empower kids and adults, and I really liked the values coming from that. I dropped out of college to focus on that. My main instructor moved to start a school in Santa Fe, New Mexico, so I threw a bag on his moving truck and went with him. My parents thought I was running off to join the circus. My dad couldn't even talk to me for a while, he was so mad.
I didn't have any pay; I worked full time at the school for free. We built this studio in a strip mall. There were times I just slept in the school, and of course I loved it. When you're a young guy, you love that kind of thing. I kept my things in a storage facility, and I had a system where I could shower at a recreation facility and I could sleep on the throwing mats at the studio. I would make it work.
While I was assistant-managing that dojo and really enjoying it, I had an opportunity to train with the grand master of our system at our headquarters school in Albuquerque. I moved there, and our karate school was right on the edge of the University of New Mexico campus. Most of our classes were in the evening, and I thought I could do some part-time classes to finish up my degree. When I dropped out, I was very close to graduating.
I was doing amateur full-contact fighting at the time, and I was spending a lot of time training for how to hurt people. I talked to my instructor one day and I said, "What do you think would happen if I spent all this time training for how to help people instead of hurt people?" And he said, "That's an interesting idea." I said, "I'm thinking about finishing my degree and serving in the Peace Corps." And he said, "I think I love that idea."
I had to finish my degree to join the Peace Corps, that was the deal. I had a wild year that year. I graduated, got rid of all my stuff, everything was in my backpack. I hitchhiked to the west coast that summer and then flew back to Kansas City to say good bye to my parents. I was set to leave on September 17, 2001. Everything was ready to go, and the planes hit the towers. We ended up going a month later, in October, and I met Soraya a month later in November.
What kind of work were you doing with the Peace Corps?
GEORGE: I was an agro-forestry volunteer. My degree was in biology and my emphasis in biology was botany, plant physiology. I loved the possibility that I could take all this academic knowledge and put it to an applied use. The Peace Corps program was perfect for that. Imagine you're sending all these college graduates who don't speak Spanish, who did not grow up on farms, to work primarily with men who are farming and have been doing it for 40 years. How in the world are you going to help these people?
For example, these growers had been growing corn all their lives, but maybe they weren't doing soil conservation. How do you go into a community, identify the key farmer, and do some projects that can lead to quick successes and help form an association of farmers to do bigger things?
Because of the key farmer in the community where I lived, we had great impact. We did great projects, and they built it all themselves. I had one farmer who was able to send all his kids to school and buy medicine for his wife because he was making money. I don't take credit for that, but I saw how ag-development work was making that possible. They were actually selling cash crops, whereas before some of them were just growing enough corn to make it through the dry season.
SORAYA: Do you think this experience with Peace Corps is why you went back to school and put you where you are now?
GEORGE: Definitely. When I went abroad, I didn't think I was going to come back. I got rid of everything. I had no plans to come back to school, or come back to the United States. But one of my counterparts was kind of like an extension person in El Salvador. His name was Mario. This guy was hilarious, he was such a clown. He would always goof with me, and he liked how I talked because my Spanish was not good. We were going to an event with other farmers and I was riding in his truck. He looked over at me and said, "You have to go to graduate school when you get back. You owe it to yourself and you owe it to us. Because if I could go to graduate school in the United States, I wouldn't hesitate." And he really put it on me that I was disrespecting all these other people if I didn't take advantage of that privilege.
SORAYA: We came back married. And then he applied for school, an assistantship at NC State. We moved to Kansas City, Missouri for a year while he was applying.
GEORGE: Soraya had family on the East coast in the Baltimore area. We thought it would make her transition much easier if we were closer to family. So I applied to schools up and down the East Coast. You have to imagine, we came back in January 2004.
SORAYA: To the cold. I had never seen snow in my life.
GEORGE: It snowed over a foot in Kansas City the next day.
SORAYA: They had the biggest storm in 10 years. I didn't even go outside... But it was fun to discover the culture. And George's parents were super supportive. They made everything easier.
What ended up bringing you to Catawba County?
GEORGE: Well first, when we were at NC State, Soraya started grad school so we were both in school together.
SORAYA: Then we applied to the Peace Corps again, and we went to Panama for 3 years. I was working with youth and education. We were training young, indigenous students with computer classes, public speaking classes, all that stuff. We took them to the university to see if they liked it or not, and we helped them enroll. I also ran a small school and library at home to read with kids. The schools there were horrible, and the students couldn't read, couldn't write, couldn't do any critical thinking. They were bilingual; they had their indigenous language and they had Spanish, so it was very hard for them to find themselves in a place where they were solid. So we helped them them with reading, writing, math....
GEORGE: Soraya opened up our little house that we had built to any kid in the community that wanted to come.
SORAYA: We worked with kids from three years old to 16 years old.
GEORGE: We had all these puzzles and games. It was all about making learning fun, because for these kids learning had not been fun.
SORAYA: There was a little library in town, and we would bring boxes of books home and let them use them. That's why I applied to work at the library, because it was the same system. It connects to what I do now, because we have a program here that's just for Hispanic kids who don't know how to write or read, so I do some tutoring programs for reading.
GEORGE: Soraya started a program where we had a group of Peace Corps volunteers that would go to every single high school and present about the University. The options, the scholarships, everything. They had to apply to the University online, and a lot of these kids didn't know how to use a mouse.
SORAYA: They didn't have electricity, internet.
GEORGE: We would write grants to do small workshop with kids at a very basic computer lab. We'd take the kids there, do all this training, do mock interviews. We had 20 kids from the region that stayed at the University for a month and took a program to basically learn how to pass the entrance exam. Soraya worked out a gig with the university where they had jobs doing landscaping stuff or cleaning and they paid for their dorm to stay. We always believed if one kid could break out from a village and go to school and be successful, all the other kids will see that person and think, "I can do that." Because before that it was an unbreakable barrier.
I Skype interviewed for the job here in Catawba County on my 40th birthday. And I told them, if you hire me the best thing about it is my wife comes to live in your county. You don't realize this yet, but you'll appreciate that if you hire me.
From Panama to Catawba County. What was that like?
GEORGE: Fast!
SORAYA: I didn't even visit Catawba County before we moved. The day we moved I had a job interview at Lenoir-Rhyne University.
GEORGE: We drove into town and she had this job interview. We had all our stuff in the car.
SORAYA: Wherever we go, we just make it work. But I knew this was going to be easy compared to the things we did in Panama. I was surprised to see this area was better than I thought it would be. I thought George was taking me to a rural area, and I was so surprised when I saw it. It's perfect. The mountains. We can see Bakers Mountain from our window, and we can be there in five minutes. I went for a hike there with my dog and I liked it.
GEORGE: I love it. It was easy for me. In Raleigh, anytime I had a break I was driving to the mountains. And now we're real close to the mountains.
George, you were talking about how you had to identify key farmers and network with those farmers when you were doing your first tour with the Peace Corps. I imagine your job here was a lot like that too.
GEORGE: Yes and no. Abroad, there's hardly any support for these programs and you have no money. You cobble it together as best you can. And here in the States, we have so many collaborating agencies and of course you've got your key farmers. But you also have your key collaborators and your key partners and all these other key people that come together, so you are one of many people with this similar goal.
Now we're spoiled. We are very comfortable. We have hot showers regularly. We have a toilet. That's weird.
SORAYA: Clean water.
GEORGE: All those things.
As you reflect on the last three-to-four years here, what makes life good for you here in Catawba County?
GEORGE: For me, the best part of my job is the community you build around the job. I'm an introvert and on the weekends, a lot of times I get to this place where I won't leave the house. I'll do chores all weekend and I won't talk to anybody. That's kind of my propensity as a person. But my job brings out this whole other side of me, and the community embraces me in the job. I feel like I know a lot of people and I think, "How did I make all these friends in the county?" Because that's not my nature. In a lot of ways, I feel we've been embraced by the community and I really enjoy that.
SORAYA: For me, everything is close. You're not trapped in traffic. You enjoy going somewhere because it's easy to get there. We are close to big cities, if you feel that this is too small. I like that we have so many parks, and I can just go to Bakers Mountain. That is my favorite one.
I feel that I have a community here, too, with the Hispanic community. I work with them and they are my clients but at the same time, I know they are my friends. I really believe that when I need something, I can ask them. The Hispanic community is like that, we are close. We're a big, big family. I know that I can trust them and they are there for me. So that makes me happy.
We have friends and family who have made the decision to move close to where we live, because they know we have a good life here. They know it's good here, so they have moved close to this area because they want the same kind of living.
Interviewed March 19, 2018