Patrick & Aimee Broos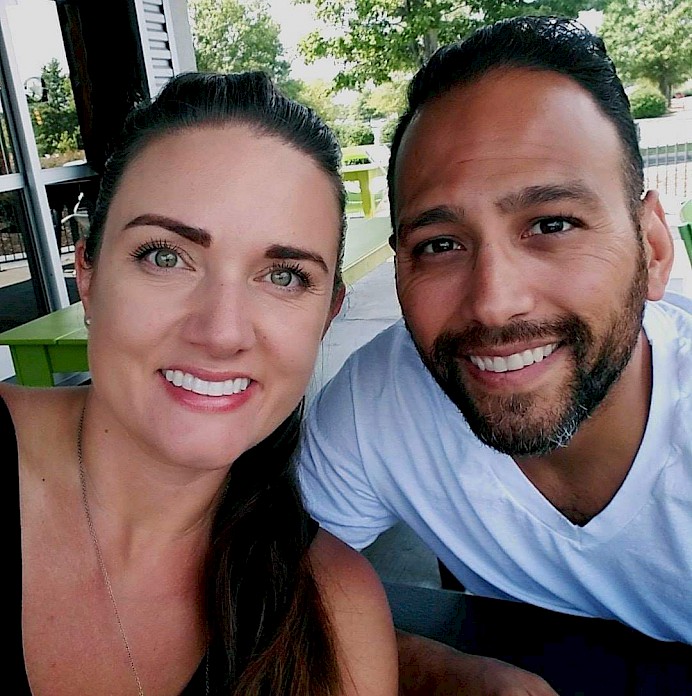 Ages: 36 (Patrick), 34 (Aimee)
Reside: Hickory, NC (moved here in May 2017 from Lufkin, TX)
Family: Sons Cameron and Jackson
Occupations: Director of Supply Chain, Catawba Valley Health System (Patrick); Part-time Barista, Lenoir-Rhyne University (Aimee)
What made you decide to live here?
Patrick: The community. I came out to interview with Catawba Valley Health System in February/March of 2017. I scheduled a Thursday flight, early morning, so I could spend time in the community talking to people who live here. My first stop was the Lowe's Foods in Mountain View. I had no idea where I was going or what to expect. I went in and talked to customers and cashiers to gauge their perspective of the community. I went to a couple other stores just to get a variety of personalities, if you will. It was overwhelming the amount of people who love this place and said it's a great community, it's a great a family community. Being a father of two boys, that was important to me. The activity level was high. A lot of people said you've got mountain biking, you've got the lake, so I got really excited about all that.
Aimee, what's your experience been in this community, especially as a mom?
Aimee: This community has exceeded our expectations. I was nervous because we were moving from a really small town and numbers-wise, I didn't know if this is going to be any better. After Patrick came out here, he kept saying, "You're going to love it." I wasn't sure, but when we came out to look for a house I loved it. We were here just for a weekend and I loved it. Once we got settled in, the kids got started in swimming right off the bat. The boys swim on a team with kids who are all different ages and from different schools, and they all get along. That kind of changed everything.
The people here, and at Patrick's work, have been awesome. Our neighborhood, all our neighbors, everything has just been great. After living in different places, we have found Hickory to be the most open and welcoming for the kids as far as school, sporting events, and other parents. We love their school, and their teachers. We've seen schools all over, and we love it here.
How much of a factor were our local schools in your decision to move here?
Aimee: Every time we've moved, he's usually working, so I Google everything. The kids' stuff has been the most important. I always look at the school scores first, but then Patrick visits the schools to see more. That's how we have chosen what area we want to live in, every single time.
Patrick: It was a major priority. You can only get so much information online, so I actually carved out part of my day to also take in a couple schools. I went to a couple middle schools and several elementary schools. They all said they had challenges but were doing things to address those challenges. That made us feel good as parents that they were actively doing things to address them.
What are the things about the schools here that you appreciate?
Patrick: I like that they don't teach for a test, which is something we've experienced in other communities. When they teach for a test, it's difficult because it puts a lot of strain on the boys. Here, they are incorporating a new method of teaching, helping the kids learn new concepts and critical thinking. They're introducing K-64 with Chromebooks.
What's your experience been with K-64?
Aimee: When I first heard about it I thought, I don't know about this, but it has been so cool. Jackson's teacher records her lessons and posts them, and that way they can re-watch it if they need to. They can do their homework with the lesson right there. If they have other questions, they can just go back and watch the video. I haven't done 6th grade math in a few years, so when my son asks me a question, I don't always know how he's been taught. We'll just pull up the video, and the way the teacher wants it done is right there.
Patrick: What we've experienced in other school systems is that the class moves on whether or not all the students are ready. What we've appreciated about Ms. Keene and her educators is that they don't move all the students at once. They work with students on concepts until they grasp the concepts, and then they move on to the next.
Aimee: If Jackson does his homework and he gets it, then he moves on to the next concept. Someone else could take 3 days to learn it, and they are still able to work at their own pace. It's really, really smart. Cameron, our other one, he has not learned math as easily, but this year it's his best subject. After the first couple weeks of school, they moved him up a level and he is doing great. He told me he thinks it's because of his teacher, so we know he's being challenged.
You two could be called professional movers because you've lived in several different places – Utah, Tampa, Roanoke, most recently Houston area. What's that been like for you?
Aimee: The first time we moved, we had two young kids. Pat had been at Shriners Hospital for about 10 years. They gave him notice that his job was going to be consolidated and told him he could either apply for a job at corporate or find something else. We were in kind of a panic.
Patrick: I'll never forget the day. December 15th. It was my last semester of undergrad, finals week. I was taking 21 credits because I wanted to be done with school. That's when my boss came to me and said I might be losing my job. He said I had an option to go to Tampa, the headquarters. That's what precipitated our first move.
Aimee: It was a hard move, but moving was one of the best things we did. I had lived in the same house my whole life. The kids were really little. I remember pulling out of my parents' house to leave. We had the big goodbye and the kids are just ugly crying. My mom and dad are ugly crying. Everyone. For probably two hours in the car. When we got there, they were fine. I think moving has been great for everybody, because I think it has brought us closer, especially the boys. The boys are close in age, so when we have moved, they have always had each other. There's always kind of a built-in buddy.
How does living here compare to where you've lived in the past?
Patrick: This is the best community we've lived in compared to Lufkin, Tampa, even Roanoke. That speaks a lot of Catawba County, the people who live here, and all that this community has to offer.
I would simply say, drive down the road. Look at the people walking, biking, running, kids outside, that environment. That was one thing I noticed when I came up here. I called Aimee that first night and said, "You would not believe the amount of people who are out doing stuff." People were active and engaged in the same things we enjoyed doing in Utah, where we're originally from. It was just that kind of environment.
I'd also say the walkability, and how animal-friendly it is. We are dog people, we have three rescues. Seeing people walk their dogs, that's an important thing. You go to Home Depot, and the guy at the paint shop will give your dog a treat. I actually went to Union Square and talked to some of the folks in the businesses, and I saw they had put out water bowls for dogs. Those are the kinds of things we have come to appreciate about living here.
Aimee: Yeah, we get a dog every time we move, so we're due.I do love the weather here. We are trying to get my parents to move here. They love all four seasons in Utah. We get four seasons here, but it's all mild. We get summer, but it's not as deathly hot as it is in Utah. We get winter, but it's not as snowy, so we are still getting it all. The dogs love the weather here, too.
Patrick, tell us a little more about what you do for a living. That was obviously a big factor in your decision to move here.
Patrick: I worked for an organization that was growing exponentially. They were a 105-hospital system throughout the United States with 15 hospitals in Texas. My role covered four hospitals in terms of supply chain management – purchasing, distribution, logistics, receiving, etc. Their growth was such that it was getting out of control; I was spending a lot of time at work, over 80 hours a week, just trying to maintain that type of growth. My life and my family's life were really starting to suffer because I wasn't home or was working when I was home. We'd lived up in Roanoke and traveled down to Winston-Salem on many occasions, and we always thought this would be a beautiful part of the country to live in. We had an idea of where we wanted to be, so when the job at Catawba Valley Health Systems opened up, I thought it would be a great opportunity and put my name in.
What was your career path after high school?
Patrick: Well, I've always wanted to be a pilot. With my family being from Holland, we spent a lot of time traveling. That's how my passion for aviation came. During my senior year in high school, I got hit in the eye with a golf ball and I'm blind from it in my right eye. I thought, "Since I can't be a pilot and I still love aviation, why not work on aircraft?" That's what made me choose aviation maintenance.
The local college didn't have a program. Oklahoma was the closest, and it was a really good program. I was out there for almost two years before I came back to Salt Lake City to finish school, because by that time the community college had a program right at the airport. I did an internship with Delta for about six weeks, and in talking with the mechanics with Delta, I learned that working in the profession was a huge commitment. They worked almost seven days a week, weekends, holidays, 12, 14, 16 hour days.
Aimee: 9/11 had just happened, too.
So the industry was changing a lot because of 9/11?
Patrick: Yeah, tremendously. While I was finishing school in Salt Lake City, I was working for an electric company building, repairing and troubleshooting transformers. That company went under after about a year, which was around the same time I finished school. I didn't have any work, and I couldn't get any work in aviation. That's how I got into healthcare, starting with a part-time gig delivering hospital supplies.
All because of a golf ball!
Patrick: Yes.
Aimee: His poor eye!
Patrick, it sounds like you like working with your hands. What appeals to you about that kind of work?
Patrick: I'm a grease monkey. If I can take something apart and fix it, I absolutely will. Everything and anything.
Aimee: Pat's a busybody. He loves being out and doing things. On Saturday morning, he wakes up at the crack of dawn and he's in a big hurry to get to work on something. He always wants to be doing something, working on something, big projects.
Patrick: "Roadrunner" was my nickname growing up. My family called me Roadrunner because I've always been on the go. Fixing cars is something I did growing up. Fixing Aimee's car, fixing my car, just fixing other people's cars is something I've always enjoyed.
How did you get into working on cars?
Patrick: It was actually out of necessity. My parents would say, "The car's broken, gotta fix it." I'm like, "Well, where do we go?" We went to the Chilton's manual, that's where. One of my parents' best friends was a mechanic for the post office, and he had a big garage in his house. My parents would take their cars there, because he had all the tools.
Did you work in his garage at all?
Patrick: All the time, from when I was in third grade until I had my own car. Any time I could, I'd get on my bike and ride to his house. I learned to rebuild all sorts of cars… Grand Torinos, LJ Cruisers, Toyota pickups, anything that was brought to his garage.
Is that what sparked your interest in NASCAR?
Patrick: No. I'm a Washington Redskins fan and a Joe Gibbs fan from back in the 90s, when he coached the Super Bowl team. When he retired from football and took over his NASCAR team full time, I kept following Joe Gibbs. From there I started following Tony Stewart and then the sport in general.
Do you still follow it?
Patrick: Do you know what February 17th is?
The Daytona 500?
Patrick: It's coming up, I can't wait.
Aimee, where did life take you after graduating high school?
Aimee: We had the kids really young. I was 19 when I had Cameron, and we just kind of figured it out. I always joke that we were young, broke and stupid. Patrick worked while he went to school. I got my aesthetics license when I was pregnant with Jackson. We had two babies, and it was hard but we did it.
The first time we moved, our youngest was only 4. I stayed home and worked jobs here and there, and I did aesthetics for a while. I did a lot of volunteering with the kids at their school.
Patrick: To Aimee's point about having the kids young, we persevered and we made it work. We did what we had to. She and I both delivered newspapers.
Aimee: We did.
Patrick: To help pay for things. I had a little Yamaha scooter. This was while I was doing aviation maintenance, and I drove 112 miles a day. I had my big tool chest strapped to the back of my little Yamaha scooter.
Aimee: In the snow.
Patrick: In the snow.
Aimee: It was horrible.
Patrick: We had to. We had one car, and it was for Aimee to transport the boys back and forth. I had a big ski track, just like in "Dumb and Dumber." I had the hat and gloves, and I would just buzz around town to get to different campuses. That couldn't happen without Aimee being able to stay home, take care of the boys and raise the boys.
Aimee: We made it work.
Patrick: Those experiences, that's what we're hoping to pass on to the boys to let them know stuff's not given to you.
Aimee, you're working part-time at the Bear's Lair at Lenoir-Rhyne University. How do you like it?
Aimee: I love it. After we moved here, the kids didn't need me to be involved at school as much. I painted the whole interior of the house, and when that was done I was kind of bored because there's only so much I can paint. I wanted to find something part-time. I worked at Starbucks a long time ago, and I saw there was a part-time barista job at the college so I applied for it. It has been so fun. I love being a barista. Bu more than that, I love being at the college. It's fun to see the kids. They're not kids, but you know what I mean. I love how there are so many international students there, too. I see a lot of the same students every day, and I just love it. Everyone there is nice, the administrators, staff, everyone.
It seems like you have found a sense of community there, too?
Aimee: Oh yeah, 100%.
Do you feel it was pretty easy to get connected with other people here, socially and through work?
Patrick: It took maybe a month, less than that. Our son got an ear infection right after we moved here, and our insurance hadn't kicked in, so Aimee took him to a CVS Minute Clinic. Turned out the provider is our neighbor across the street. A few days later, she came knocking on our door and asked if we remembered her. Through that connection, we began connecting with a larger network of friends through gatherings and things of that nature.
You've got a lot of opportunities to get plugged in. The YMCA is out of this world here. The kids love to swim there, but we'll even go to the gym on off days and work out. How many 10, 11, 12 year olds like to run on the treadmill, ride an exercise bike or lift weights? It's because they see other kids doing it. People are involved, and that's a huge thing.
Outside of work, how do you like to spend your time? Any hobbies?
Patrick: I enjoy mountain biking. My son and I ride the trails at Jacob Fork Park. There are some good trails at Riverbend too. I enjoy hiking. We do the river walk trail up at Geitner Park. For us it's really more about staying active, getting out. I have to get some fishing in.
If we eat out, it's always a local or regional place. One of my most favorite foods is pho. We have five or six restaurants that serve pho. We didn't know that from going online and doing research. I went two years in Texas without any pho, so when we found out there was pho here, I must've eaten two years' worth in six months. It's amazing to see the amount of people who support the local eateries.
Aimee: We love the food trucks here. We were just walking around downtown one night and just happened to find one, ATOC, and it was so fun. They had the Cuban sandwiches, and it was –
Patrick: It was really good.
Aimee: I love the food here. I love the food trucks. I'd rather eat somewhere like that than something fancy any day of the week.
Patrick: In my job, I deal with a lot of vendors and vendor reps. They tell me that like to come to Hickory because of the food scene. They know restaurants that I don't even know.
Is there anything else you'd like share about what you like about living here?
Aimee: I love the location and how close we are to Charlotte. We're close to everything. That includes Asheville, because I love going to Asheville. But I love coming back here, too. We have moved and traveled a lot, and the kids have been able to experience and see different cultures and ways of life. Here, I feel like it's a good mix of everything – race, culture, religions. Everything's been just great.
Updated Interview January 10, 2019