Catawba County News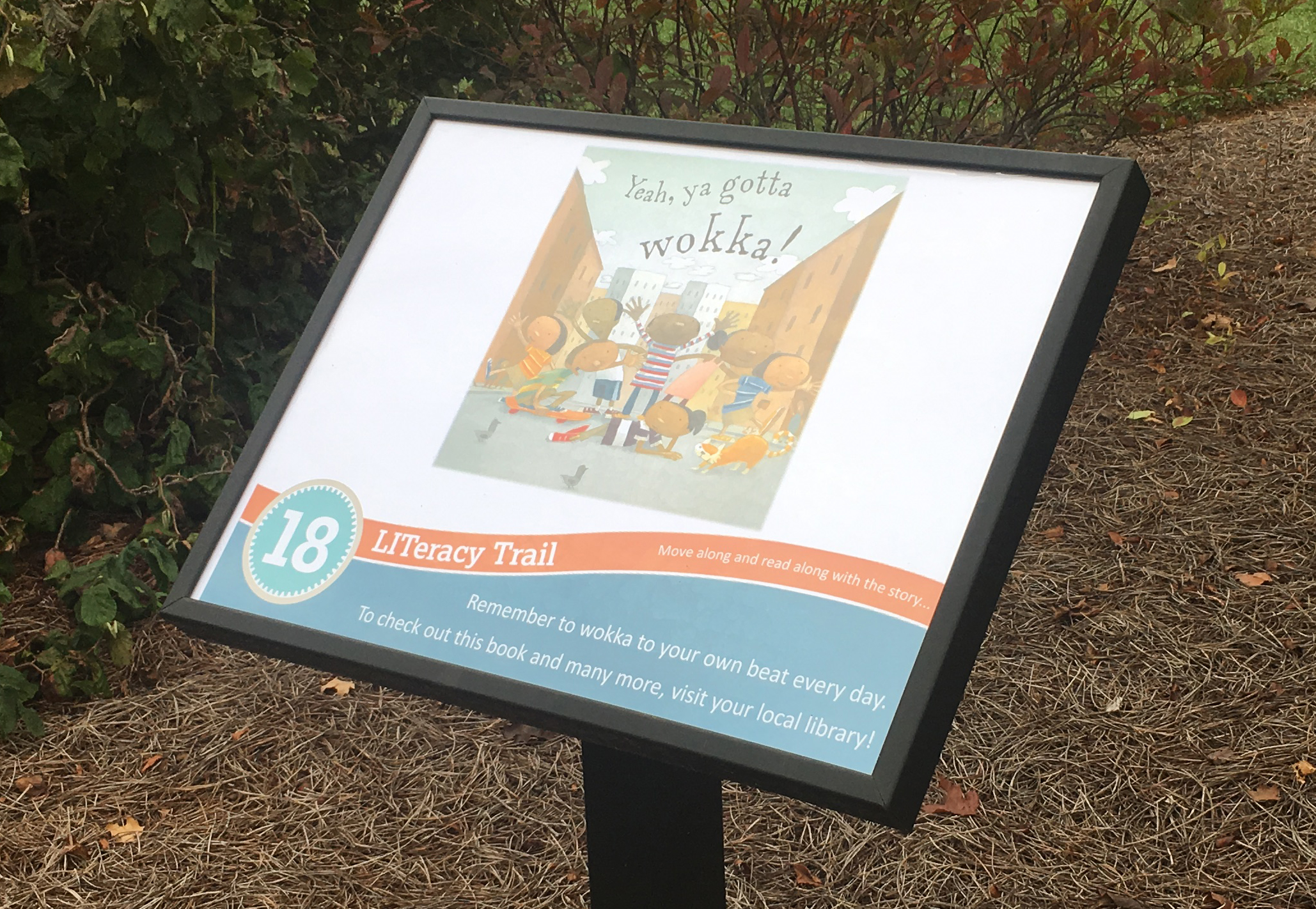 ---
Visit the Newest LIT Trail
Published: November 28, 2018
Catawba County's third LITeracy Trail was recently installed at Murray's Mill Historic District, adding another element of family interest to the popular site. Each trail consists of 18 individual stations that progressively trace the narrative of different children's books while also offering prompts for exercise and further exploration.
The Murray's Mill location was suggested by Dr. Amber Clawson Albert, executive director of the Historical Association of Catawba County, who thought that the presence of a LITeracy Trail offered a natural tie-in with the county's history, especially in light of the site's annual slate of family-friendly programs and events.
Historical Association Board member, Paul Beatty, Jr., who has been instrumental in promoting Catawba County history for many years and is also a Boy Scout leader, worked with Eagle Scout Jacob Helms to spearhead the installation of the LITeracy Trail at Murray's Mill.
The creation of local LITeracy Trails was conceived by the 2016/2017 class of Leadership Academy, a Catawba County government program that engages county employees to dive deep into the principles of leadership and service. Part of the curriculum involves developing a collaborative project to improve resources and quality of life for all county residents.
As branch services manager of the Catawba County Library System, Jenny Gerami-Markham, a participant in the 2016/2017 class, was especially eager to create something that would boost education and nudge physical exercise. As she and her colleagues – Jennifer Lindsay, Kristen McCorkle, Barron Monroe, ShaVodka Nowacki, Lorraine Saporito, and Andrew Wright – raised money to build the three trails, they also sought out community involvement and buy-in. A major source of funding came through grants provided by LiveWell Catawba, the nonprofit organization dedicated to building a culture of wellness throughout Catawba County.
In addition to the Murray's Mill trail, other LITeracy Trails can be found at St. Stephens Park and Baker's Mountain Park. Residents and visitors are encouraged to follow them and let children actively participate in reading the stories and choosing other ways to connect with the characters and content.
Additional county locations are being considered as ways to expand the impact of LITeracy Trails.