Catawba County News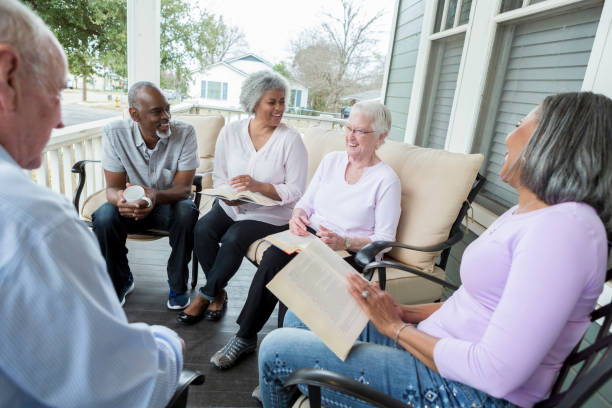 ---
Try Out a Book Club!
Published: August 21, 2018
Completing a great book gives you an insatiable need to talk about it with someone, especially someone who's read the book as well. You want to hash out character, narrative, plot points, language, psychology, and much more! Processing all of the details that went into making the book a satisfying experience is part of the journey, especially when you're eager to draw out the author-reader relationship even further.
Thankfully, the library has a built-in tool for such encounters: the book club. On a monthly basis, we coordinate groups of people who take on reading the same book for an experience that's both individual and communal. And while you think you know what the book is about, it's not until you engage in a discussion that you see how other people's lives and opinions inform the text in different ways, making you reconsider your own take and expand your perspective. It can be an eye-opening encounter.
Many of the library branches support book clubs, from Newton's Southern Pens group to its Piece of Cake club. Both of them gravitate toward fiction. Claremont's Books Between Friends Book Club is broad with its choices, while the Sherrills Ford-Terrell's Mystery Mavens stick to a single genre. Newton also hosts a Spanish-language book club that draws a solid core of supporters and other participants.
The Southwest Branch Library will soon kick off an initiative to establish a new book club and get in on the book discussion action! The first meeting takes place Tuesday, September 11 at 6 pm, and the attendees will map out a game plan for getting together and sharing their reading loves and experiences. If you'd like to be part of the creation, feel free to show up with ideas!
For more details about the library's book clubs, check out our monthly newsletters or reach out to us at 828.465.8665 or at mylibrary@catawbacountync.gov. Keep in mind, too, that the library can help coordinate the borrowing of books for your own independent book club. Give us a call to find out how!
If you'd like to test-run one of our clubs, the Piece of Cake Book Club meets Tuesday, August 28 at 3 pm at the Main Library in Newton. Their selection for August is The Perfect Girl by Gilly McMillan, and anyone is welcome to attend!