Catawba County News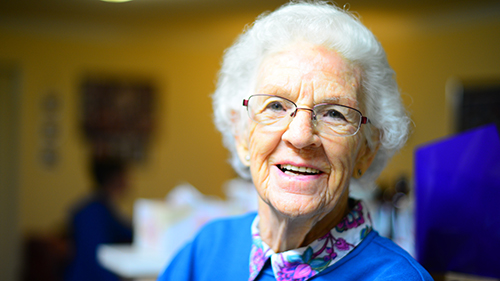 ---
Seniors Morning Out Activities for January
Published: December 19, 2018
HICKORY – Seniors Morning Out participants will enjoy a variety of activities in January, including cooking classes and musical performances.
Any resident of Catawba County who is 60 or older is invited to join Seniors Morning Out, which is held between 8:00 a.m. and 12:00 p.m. Monday through Thursday at five convenient locations. A hot, balanced lunch is served each day. Programs are free to participants, who may pick and choose which days to attend. Bus transportation to and from the sites is available in some locations.
Other program highlights are as follows.
At the Newton site, located at First Presbyterian Church, 701 N Main Ave, Newton

1/7

Performance by Inspira

1/9

Glaucoma Awareness

1/10

Cooking Class- Tortellini Corn Chowder

1/14

Craft Class- Pasta Snowflakes

1/15

Music by Sentimental Journey

1/17

Movie Day: "Pure Country 2-The Gift"

1/22

Gospel Sing Along with Fred Wilson and Martin Luther King Facts

1/23

Signs and Symptoms Indicating You May Have Thyroid Problems

1/24

Music by Seniors on the Move
At the West Hickory site, located at the West Hickory Senior Center, 400 17th St SW, Hickory

1/2

Cooking Class- Roasted Brussel Sprouts and Their Health Benefits

1/7

Community Health Listening Session with Zack King, Public Health

1/9

Common Idioms and Their Meanings

1/10

Sentimental Journey to perform

1/14

Clear Captions with Antonio Howie

1/15

Signs and Symptoms of Stroke with Carolyn Thompson, RN

1/17

Shopping at Walmart

1/24

Craft Class-Pretty as a Picture- bring a photo

1/29

Shopping at Mighty Dollar and Saunders Family Farm then Lunch at Hannah's BBQ
At the East Hickory site, located at Lifepoint Church Hickory, 2123 Fifth St NE, Hickory

1/2

Singing and Dancing with Sentimental Journey

1/8

Lunch at Red Lobster then Shopping at Valley Hills Mall

1/9

Celebrating Martin Luther King Day

1/14

Home Health Services with Jemina Shareef, Unique Life Care

1/15

Grief 101 with Sandy Hood and Patricia Warfield, Carolina Caring

1/16

Community Health Listening Session with Zack King, Public Health

1/23

Shopping at Walmart

1/24

Craft Class- Pine Cone Bird Feeders

1/29

Cooking Class- Stuffed Celery Snacks
At the Catawba site, located at Hopewell United Methodist Church, 2211 Hopewell Church Rd, Sherrills Ford

1/3

Seniors on the Move to perform

1/8

Bowling at Pin Station and Shopping at

1/10

Effects of Stress on Your Body and Way to Manage It

1/16

How to Keep Your Feet Healthy with Ryan Kelly, Foot Solutions

1/17

Mosaic Art with Debra Zimmerman

1/22

Martin Luther King Facts and Trivia

1/23

Cooking Class-Easy Blueberry Pies

1/24

Craft Class with Tonya Jarnac

1/30

Music by Sentimental Journey
At the Maiden site, located at the Maiden Community Center, 207 E Klutz St, Maiden

1/2

How to Prevent Back Injury

1/7

Cooking Class- Potato and Onion Soup

1/8

Dementia Friends with Karen Phoenix, WPCOG

1/9

What to Say and Not Say to Someone Who Is Grieving

1/14

Community Health Listening Session with Zack King, Public Health

1/17

Library to Go with Sarah Sherfey

1/22

Music by Sentimental Journey

1/28

Sing Along with Charles Ballard

1/30

Chair Yoga and Bingo
Seniors Morning Out is operated by Senior Nutrition Services of Catawba County Social Services and is in need of volunteers to assist with the program between 8:00am and noon, Monday – Thursday. Please call 828-695-5617, if interested. In addition to SMO, Senior Nutrition Services operates Meals on Wheels and related programs in the county. Additional volunteers are urgently needed to deliver Meals on Wheels. You can volunteer as little as one and a half hours a month. The program is also conducting its annual fund-raising drive at this time. To find out more, contact Senior Nutrition at 828-695-5610 during regular business hours, 8 a.m. to 5 p.m. Monday through Friday, except for holidays. For the latest updates, like their Facebook page at http://www.facebook.com/MealsonWheelsofCatawbaCounty, or visit their website at http://www.MealsonWheelsofCatawbaCounty.org.
Catawba County Senior Nutrition Services is a United Way funded partner. Catawba County United Way's mission is to increase the organized capacity of people to help others by mobilizing the caring power of our community. For more information, locate us on Facebook, 828-327-6851 or www.ccunitedway.com