Catawba County News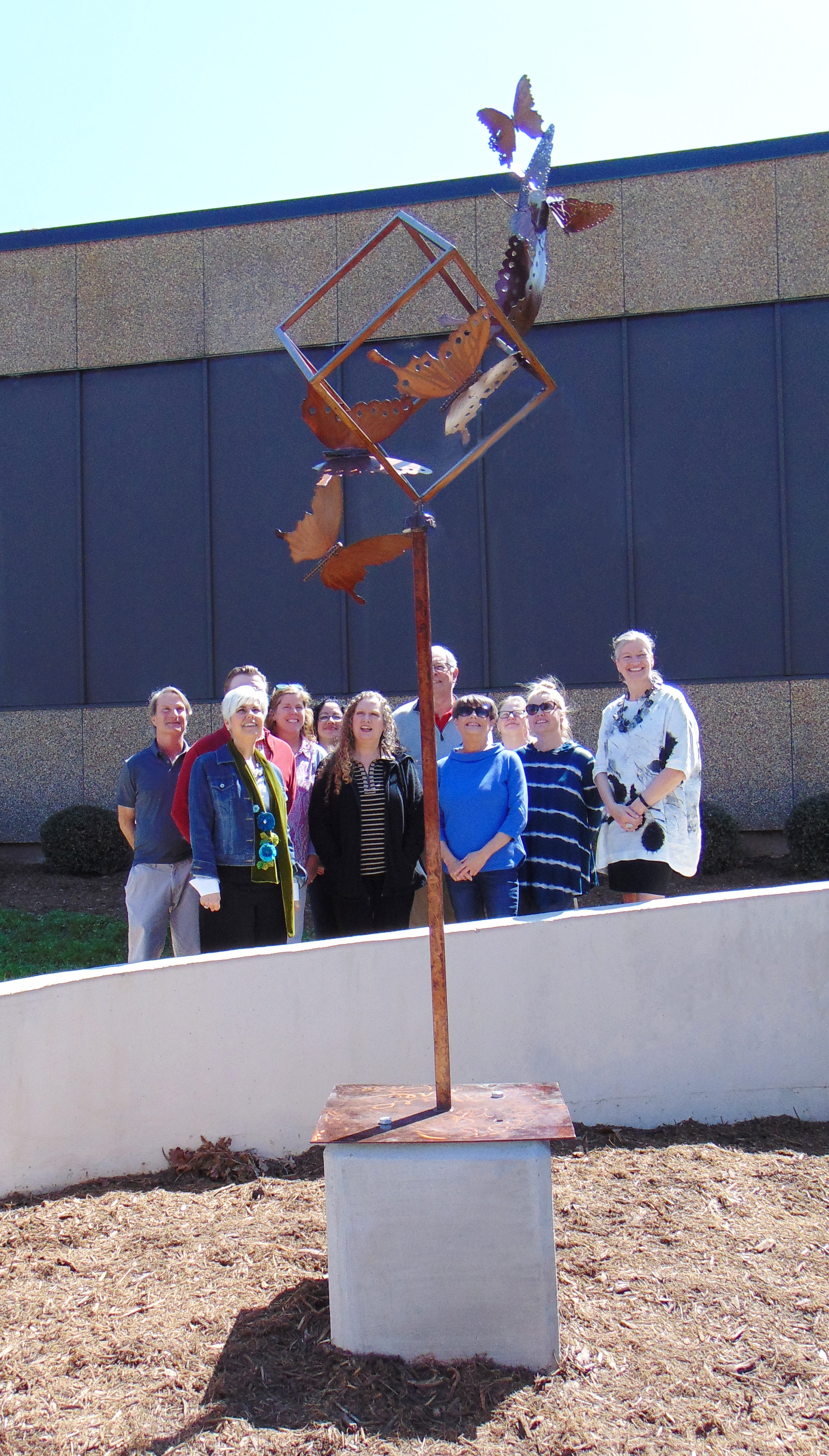 ---
Library Unveils Public Art
Published: April 17, 2018
The Main Library in Newton recently received a large-scale sculpture to distinguish its main entrance on West C Street. The sculpture, entitled "Outside the Box," was installed as part of the Art for the Public exhibition, coordinated by the Newton Public Art Commission.
Simpsonville, S.C, artist Raymond K. Giddens created the sculpture, which is a metal work consisting of a hollow cube and emerging butterflies painted a copper color. The subject matter has particular resonance for the library, whose service and work are centered around the idea that Libraries Transform.
The Art for the Public exhibition is a rotating public exhibition of sculpture throughout Newton made possible thanks in part to a grant from the United Arts Council of Catawba County. The grant provides artists' honoraria for the loan of 12 sculptures installed outdoors in Downtown Newton and additional public spaces within the city for one year terms. Pieces in the exhibition are for sale, and the commission continues to accept artist applications for new pieces to add to the exhibition.
"Outside the Box" is one of two of Giddens' pieces already installed in Newton; his "Steampunk Kingfisher" is installed at Newton City Hall. Two additional sculptures by Giddens will be installed in Newton in the coming weeks.
Newton Mayor Anne P. Stedman addressed library and city staff as the sculpture was unveiled at the library on April 11.
"Newton's reputation as a center for arts and culture is quickly becoming stronger," Stedman said. "I am pleased that the Public Art Commission was able to partner with the Catawba County Library on this installation and I thank the United Arts Council of Catawba County for their support. I look forward to seeing more pieces of public art installed throughout Newton in the coming weeks and months."
"When we learned of the opportunity to partner with the City of Newton to host a large-scale sculpture at the library, we leapt to be included," said Suzanne White, director of the Catawba County Library. "The library is a community center in so many ways—including socially and educationally—and we relish our role as advocates for learning and experience-gathering. We want residents to know that the Catawba County Library has amenities and resources that rival those in larger cities. This 'Outside the Box' sculpture reinforces that idea and shows that libraries, as drivers of collaboration and enrichment and transformation, are integral to the quality of life in the communities we serve. What could be more gratifying than that?"
For more information about the exhibition, including artist applications, visit www.newtonart.org.