Catawba County News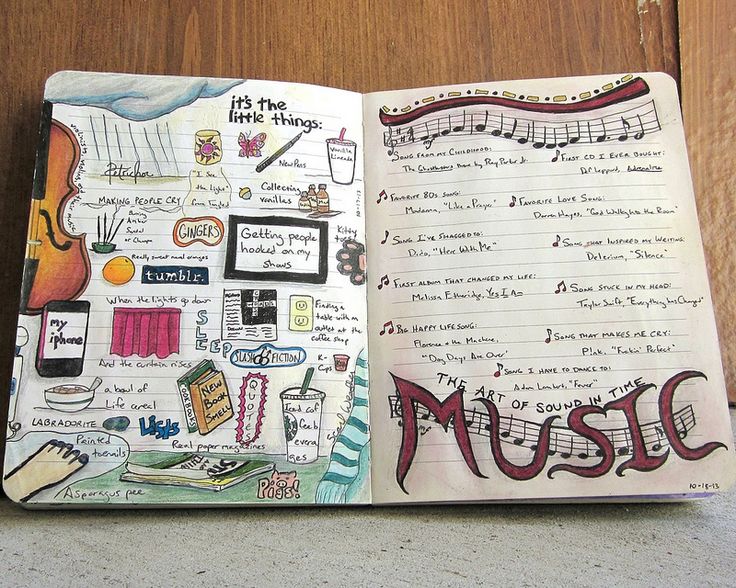 ---
Create an Art and Music Journal
Published: July 25, 2018
Do you like tracking different periods of your life, seeing how you've grown and developed? Journaling is a great technique for documenting who you've been and where you've gone. If you've ever kept a journal, it's probably been text only, passages and impressions poured out in sentence after sentence.
This week, the Library is going to talk about a different kind of journaling – one that incorporates art into the mix and features musical likes as a soundtrack for life events. These amped-up journals add more color (literally and figuratively) to your ruminations. They also translate ideas into images and can impart a visual component to enrich everything you'd typically just jot down.
As we discover ways to journal with art and music, we'll provide prompts to guide your creativity. You can doodle in margins, add sweeping patterns of color, add elements of collage, or recollect dreams with freeform illustration. With music, you can talk about how the lyrics of a song resonate with you or what a particular band meant to you at a certain time of your life. You can also generate your own 'mix tape' by making a list of songs that encourage you, cheer you, or pump you up for activities and particular occasions. It's all personal and isn't designed to be shared – only to encapsulate who you are each time you journal.
To get started and to gain inspiration, join us on Tuesday, July 31 at 4 pm at the Main Library in Newton. We'll offer examples and help you shape your own tastes and practices. And just think about the self-awareness you'll gain as you see who you've been compared to who you're becoming!