Matthew Rodriguez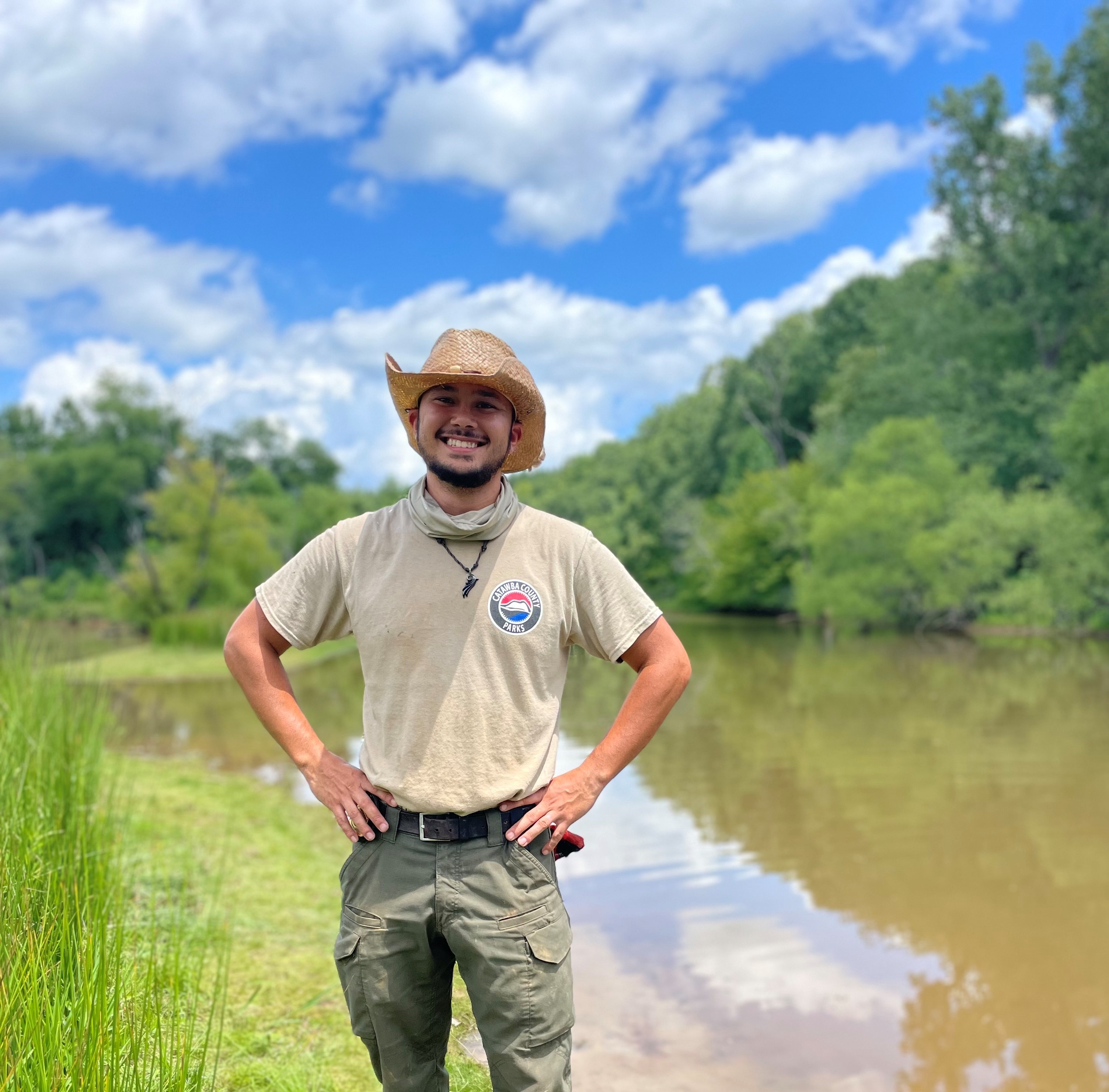 Title: Park Ranger, Mountain Creek Park
Department: Catawba County Planning & Parks
Started Working with County: 2021
What does being a park ranger involve?
That's a bit of a complicated question. I only say that because it's really whatever the park needs. If need be, I can be a mechanic. I can work on the UTV, change the oil in it, keep it maintained. I can be a landscaper, mowing, planting. I'm a gardener. All the trees that you see at our park, we planted all those by hand. And of course, I do trail maintenance. I'm a bit of a forester when I have to fell trees. I was even a locksmith once when a key got stuck in one of our doors. I pretty much have to be whatever the park needs.
How do you interact with the people who come to the parks?
That's the customer service part of the role. I love interacting with people and being able to connect with them. I always try to be a good public servant by answering questions about the park and offering recommendations when people come in and ask about the trails.
Are you involved in any programming?
Yes. For example, I was involved in getting the dragonfly and damselfly program started with the Library System. As park rangers, we would go out to the different library locations and do a program teaching kids about dragonflies and damselflies and how to make a dragonfly with pipe cleaners.
When did you start working for the county?
August 2021. They had hired seven of us when the county decided to revamp the park system. I'm one of the original seven hired.
Mountain Creek Park wasn't open then, so what were you doing when you were first hired?
I was working at Bakers Mountain Park first, and I expressed an interest in working at Mountain Creek. They moved me to Riverbend Park for a little while to get used to the topography, because it is very similar to Mountain Creek. About six months ago we started working out here [at Mountain Creek], getting the park ready and getting familiar with the trails.
What did you study in college?
My degree was in natural resource management ecology. I went to Catawba College in Salisbury. Interestingly enough, I think I originally learned about Catawba County because my college used to be in Catawba County a long time ago.
What inspired you to pursue that field?
I primarily grew up in the country in Midland, North Carolina, east of Charlotte. My uncle owned some land behind our house that he originally used for horses. As a young kid, I explored the woods and spent a lot of time outdoors there.
What did you do before you started working for the county?
I used to do stream restoration. My fiancée and I met in college, and she was from Maryland. After we graduated, I moved up to Maryland and transferred my job with DICK'S Sporting Goods. From there, I found a job doing stream restoration. It's basically running construction equipment along a stream bed. You're essentially fixing the areas that have eroded, and then you're putting some kind of living vegetation on the sides to help keep it from eroding. We would also add certain features, like putting a root ball in the creek to create a fish habitat.
What made you decide to work for Catawba County?
Deciding on the job for Catawba County Parks was primarily luck. I did an internship while I was in college for Special Metals in Newton, they're a welding supply company, so I was familiar with Catawba County although I did not visit any of the parks when I was here. I wish I had. If I would've known they were here, I would've come out here more.
I had applied to a lot of different county parks. I was trying to apply for Cabarrus County Parks, where my family is from, but ultimately I'm glad I went with Catawba County because the role of a park ranger here is much broader. I get to wear a lot of different hats.
What do you enjoy most about your job?
Whatever keeps me out in the woods, I enjoy it. That's probably my favorite part, being able to get out into the woods and take my time enjoying the natural world. The other day, I discovered a plant called ghost pipe. It's this little white flower, and apparently it's almost like an antidepressant. You can make a tincture from it to help with stress relief. Being able to go out in the woods and learn things like that, that's got to be the best part of the job. I've also started bike riding because all these people are coming here to do it. I think it helps me better understand our visitors by putting myself in their shoes.
What is your "why" for doing this kind of work?
My why, and I believe I said this during my interview for this job, is to help people have a good time and enjoy their life. We don't live for very long in the grand scheme of things, considering how old the natural world is, and we don't get a whole lot of time to enjoy it. Being able to create an opportunity for somebody to enjoy and have a good time out in the natural world, I think that's my why.
What do you most appreciate about working for Catawba County as an employer?
I have to say how much time I get. If I work overtime, that becomes comp time that I can use. Being able to have the time to actually live my life outside work is something that is kind of rare.
How would you characterize the work culture here?
If I had to put one word on it, I probably would say family. Our superintendent is very much like a mother. Sometimes on Tuesdays, she'll actually grill and cook us food because that's the day that we're all on staff. Tommy is one of my other coworkers, and he is like a brother. The way we work together is very similar to siblings. It's very much like a family, hands down.
How do you think your work is helping to make living better for our residents?
We are creating that opportunity for people to get out and enjoy themselves. We live in a time now where life is very metropolitan. We live a city life. Even if you live in the country, you still end up driving to the city. I think getting outdoors and getting back to the natural world really heals us in a primal way, if that makes sense.