Joe Seechang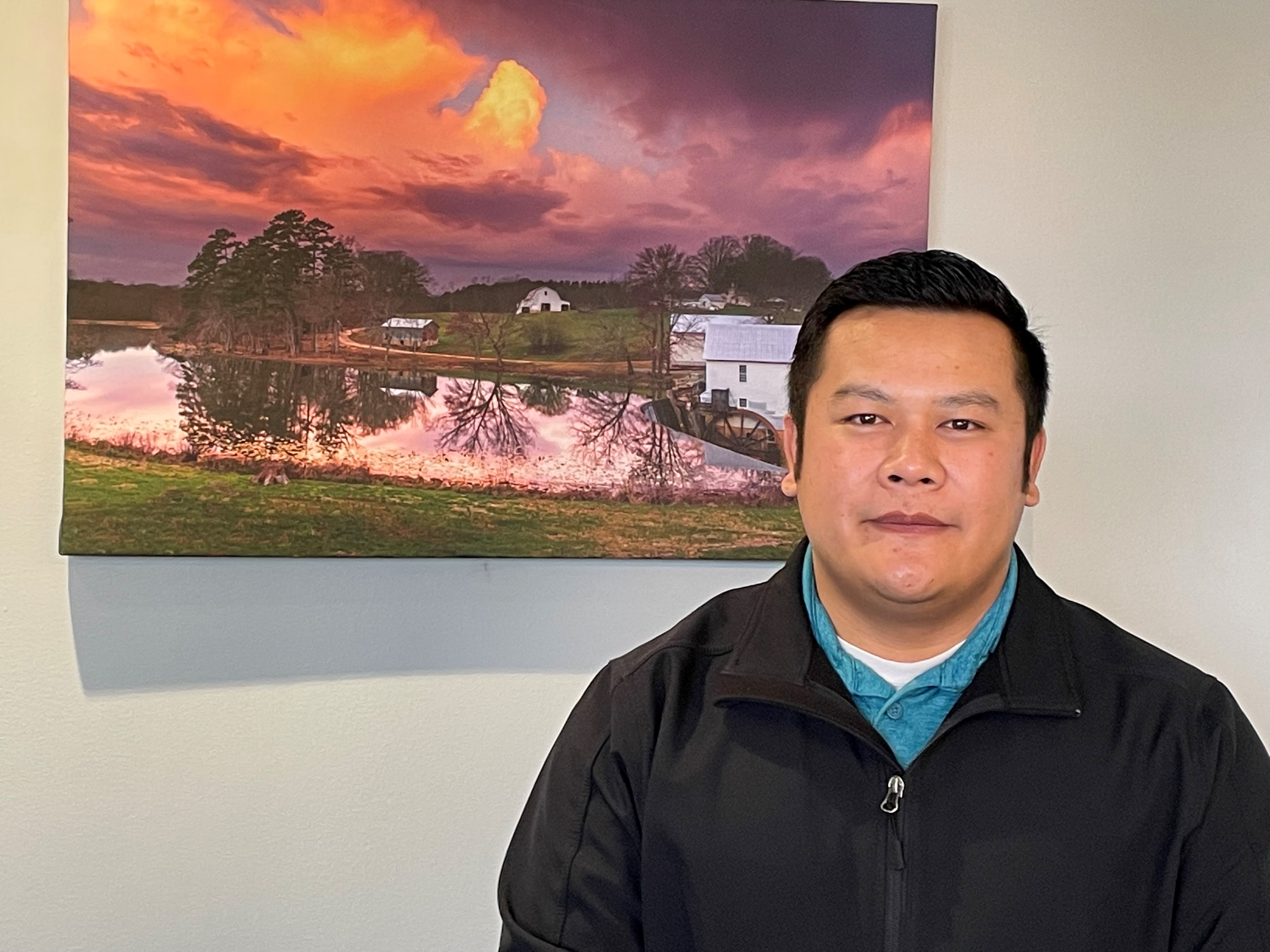 Title: IT Manager
Department: Catawba County Information Technology
Started with County: 2016
Share a little about your career with Catawba County.
I started out as a network engineer, supporting the county's end users with their hardware and software issues. From there, I moved up into the senior network engineer position working on the infrastructure side with switches and phone systems, and then moved again into my current position, which is the IT manager.
What do you now as an IT manager?
I supervise about seven employees. I do their time sheets and evaluations, and I make sure they're completing their work orders on time for the county. I provide guidance and support for them, as well. They're doing what I did as a network engineer, helping the end user resolve issues with their computer software or hardware problems.
What is a typical day like for you?
I pretty much go into the office, check my emails, monitor the network status, review alerts. There's a ton of emails that come through from all over, because I'm not just serving one area. I actually support the entire county. I get different emails from departments about issues they have, usually about something with their hardware or software that I can delegate out to my staff. Sometimes it turns into a larger project depending on their needs.
Is it safe to assume that your schedule is 8-5 but also varies, too, depending on the work?
Yes. We in IT are on call. We support after-hours on call for critical issues, mostly from public safety since they are a 24/7 operation. It is really important to make sure they are up and available to serve emergency calls and needs. There's a lot of work on the back end on the infrastructure side. We are supporting all that, while supporting everybody's needs throughout the County. It's a lot of work.
How do you keep up with emerging technologies?
That's a good question. I ask myself that all the time. You just learn whatever comes next, whatever's needed. Things are different every day. You go with the flow. In IT, there are a lot of learning opportunities and opportunities to grow because changes are frequent.
What did you do before you started working for the County?
I was actually working for another governmental agency, down in South Carolina, and I was driving two hours back and forth for about four months until I found an apartment. I was never late, even with heavy traffic.
What made you decide to work here at Catawba County?
I have family here. I've been living here since '95. I pretty much call this area my home, aside from where I was born in California.
What made you interested in working for Catawba County?
Pretty much the people. The atmosphere here is better than the other workplaces I've been in. People are more understanding, and they care. They actually care that you are doing your work correctly and making sure everything's going smoothly. Where I worked before, in the non-military government agency, you were just sent out on your own and had to figure things out without any help or guidance.
What prompted you to pursue career advancement here?
It's part of my personal goals, and to try to build up self-confidence. I'm a quiet person. I like to listen, analyze things. For me, I try to challenge myself and push myself to be uncomfortable. That way I can grow and learn.
When you decided to apply for a new role, did you feel supported?
Everybody was supportive. I was a really good worker and they supported me with the transitions. They helped me and guided me through each transition into new positions.
What do you like the most about what you do?
What I like the most about what I do is that I'm supporting the community indirectly. By supporting the infrastructure and services for the end users, the employees here, they can have the confidence to support the public.
What's a project you've worked on that you feel particularly proud of?
Building out the paging system for Public Health. That was big, because we got to choose a different device. I like new technology and putting it out there, configuring it. I like doing hands on stuff as well. So that was pretty interesting, trying to get everything working.
The thing I liked most is, let's say the speakers aren't working. We troubleshoot it down to the switch area, and the switch has a configuration that we have to try to figure out to make it work. That's what's interesting. It's that troubleshooting process all the way through, figuring out how to make it work with different systems.
What drives you to succeed?
My personal goals, as well as trying to make a difference for the community.
How would you characterize our work culture or atmosphere?
The atmosphere here is good as far as people. Everybody comes together for a common goal, which is to serve our people or departments. Everyone is supportive.
If someone asked you if they should consider working here, what would do you tell them?
It's a good place to work, because you're going to be supported and everyone's understanding. And work wise you'll be making a difference, whether you know it or not, for the people here.
Interviewed February 16, 2022