Catawba County Employee Spotlight
Garrett Hendrix-IT Support Specialist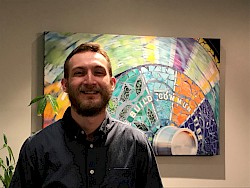 Department: Information Technology
How long have you worked with the county?
Just over 1 year.

What does your job involve? Please describe what you do.
I provide first line technical support to county employees, including over the phone and in person. If an employee has a technical issue, I will work with them to get it resolved, or get it escalated to the proper channel for resolution.

What do you like most about what you do, and why?
I enjoy my job because of the satisfaction of helping someone. When a customer is frustrated and calls IT for assistance, it's a nice feeling to be able to work the issue out with them and get it resolved.

Which of the county's core values (doing what's right, doing what matters, doing it together, doing it well) resonates most with you in the work you do, and why?
The county core value that resonates most with me would probably be "doing it together." While everything I do isn't necessarily a group effort, I would not be in the position I am in today without the help of my colleagues and fellow county employees.