Sample Ballots
Nov 3rd General Election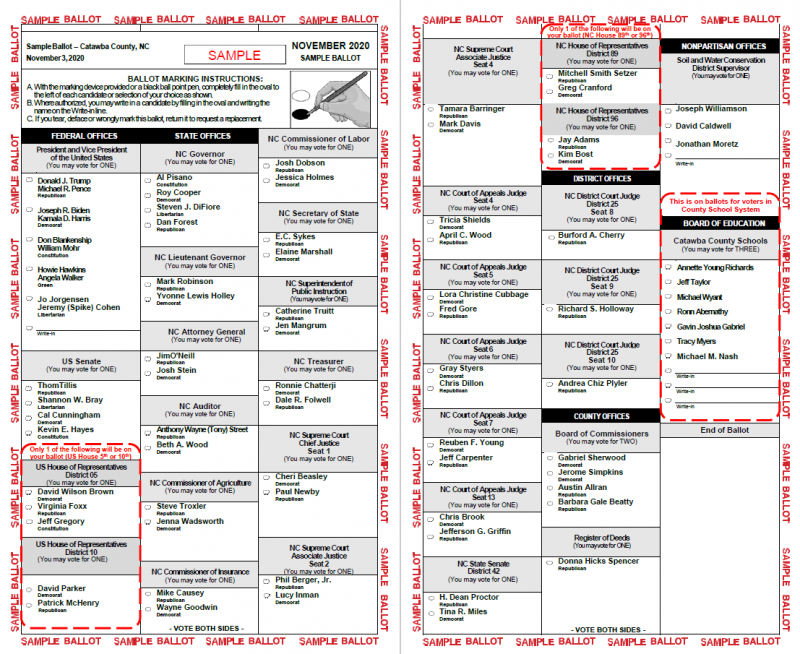 Catawba County - November 2020 Sample Ballot
Above is a generic sample ballot for Catawba county. There are three split jurisdictions in the county and your residence determines what is on your ballot:
See other maps for Catawba County
---
Using the Search Tool
To view your specific sample ballot (based on your residential address), use the Voter Lookup Utility on the State Board website.
Search your name and open your record
Click on the "Sample Ballots" tab
Select the ballot for the 11/03/2020 GENERAL election. Note: if your address is different than what is listed, your ballot may be different after you change your address
Voter Lookup - State Board of Elections Website
---
Unsure of the districts in which you reside?
Use the voter lookup link above to view your jurisdictions and a PDF of your ballot.
If your information is incorrect, please complete a new registration form.
Paper Registration Form - use this form to update your information (for updates: mail, fax, email or hand deliver | new voters must send original document via mail or hand-delivery)
DMV Online Voter Registration Form - voters with a NC drivers lincense, permit or DMV issued ID may change information or register for first time
DEADLINE: 5pm, October 9, 2020. Any changes made after this date will be processed after the election. However, you may change your name or address (only if you moved within the county) at the time you vote. By law, you must vote using the residential address where you were living 30 days before the election (Oct 4, 2020).
---
NOTE: Lines have changed for Precincts 33-Springs, 34-Startown, and 40-West Newton.
To determine the election day polling place for a specific address, use this link. Find Polling Location
---