HOW DO I GET PERMITS TO BUILD MY HOUSE?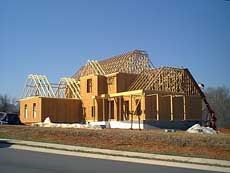 As you begin planning to build your dream home, we recommend you speak with a Planning and Zoning representative to make sure the home can be placed on the property that you have in mind. You will want to determine the zoning jurisdiction where your property is and contact the department with authority in that district directly.

The Planning and Zoning Department will likely ask for the following information:
Address of the property.
Is the home new or an addition?
What is the estimated square footage of your home?
Do you already know where you want to locate it on the property?
Is the property already recorded with the register of deeds or are you going to subdivide the land?
After talking to Planning and Zoning you will need to think about your water and sewer needs.
Is city water and/or sewer available at my property?
IF NOT
You will need to have a well or septic tank put on your property. Our County Environmental Health Department will need to look at your property to make sure a well or septic system can be installed and where it will need to go. You may apply for this service at either Permit Center location.Once a water and sewer system is installed, you will be ready to apply for your building permit. This may be done at either of our Permit Centers. The permit center staff will assist you with the process by:
Confirming or issuing your zoning approval.
Confirming that your need for water and sewer has be met.

Confirming that the Permit Center can issue the permit to the requesting applicant such as the home owner or licensed general contractor.
Asking you to fill out a Building Permit application.

Asking you to provide a scaled drawing of your home that identifies all of the rooms and show square footages.
Collecting the fee.

Advising you on the different stages of the building process when you will need to call for an inspection.
Showing you how you may schedule inspections.
The Permit Center staff will also advise you on the permits you will need for your home, such as electrical, mechanical and plumbing. You will not need to fill out any of those trade applications unless you'll be doing the work yourself.

At any stage of your process, the Permit Center and Building Inspections inspectors will be happy to answer any questions you may have about the process or any code issues, at our telephone numbers.

Have we answered your question or addressed your concern? If not, let us know.